Extending Without Planning Permission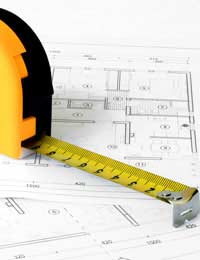 Trying to get planning permission for an extension is something that most people treat as a real problem. It doesn't have to be, unless there are some really draconian regulations in your area, but there are quite a few things you can do to create extra space that don't need planning permission anyway.
Don't Forget Building Regulations
Note that not needing planning permission doesn't necessarily mean you can go ahead and do whatever you want without getting the local planning authority involved. Building regulations must still be followed and there are two ways of doing this.
The first, if you are doing it all yourself, is to get the building control inspector round to check the work, although you do have to pay for that. The second is to use qualified builders and tradesmen who are allowed to self-certify their work.
Extending Within Limits
Many householders can actually build a single-storey extension or conservatory of a certain size without planning permission. If the house hasn't been extended since 1947 (if it's an old house) or since it was built, then you can extend to a certain size anyway.
Currently the limit is seventy cubic metres, roughly the size of a single garage, or fifteen per cent of the total volume. It must be less than four metres high at the ridge (for a sloping roof) or three metres high if it is a flat roof. The rules on permitted extensions in the UK are changing though, and there are other limitations too, so make sure you check with the up-to-date regulations with your local planning authority before you start building.
Outbuildings
As long as you don't cover more than half your garden, there are no limits to the number or size of outbuildings you can put up. The same height restrictions apply as above, and they must be at least five metres from the house. This allows you to put up buildings to be used as home offices, studios, games rooms, workshops, self-contained accommodation; whatever you want.
You must continue to use your house and outbuildings as one dwelling though, and there may be specific restrictions if you live in a Conservation Area, Area of Outstanding Natural Beauty (AONB) or some other area with development restrictions. Again it's best to check with the planning authority before you begin the building phase, just in case.
Going Up in the World
There's a great deal you can do with the roof space without needing planning permission. A completely internal loft conversion, one that doesn't need the roof to be extended, shouldn't be a problem at all. Flat rooflights like Velux windows can also be used although here you may need to check restrictions; quite often they are permitted on the back of the roof but not the street frontage.
If you need to extend your roof space to make a decent loft conversion there are options here too. Pushing the roof out to create headroom or adding dormer windows is fine without planning permission as long as the extra space created is less than forty square metres for a terraced house or fifty square metres for any other type of house.
Garage Conversions
Finally, any internal changes are fine, at least from a planning permission point of view. This is usually taken to mean projects like knocking down an internal wall or putting in an en suite bathroom. Those are of course valuable if they are what you want but aren't extending the living space.
But there's another way to use this restriction – any attached buildings are treated as internal space. This means that converting a garage or other attached outbuildings into internal space won't need planning permission.
Armed with all this information take a new look at your home and garden to see where you might be able to give yourself more space without having to bother your planning authority.
You might also like...
Hello My neighbour is putting a loft conversion into his bungalow.All properties around are bungalows.I spent over a year looking for a bungalow with a private garden, he has now taken this away because he can see into my garden.Is there anything I can do.He made no attempt to advise any of the neighbours of his plans and we only found out when the builders were onsite building thedorma window framework.
Depressed
- 29-Sep-19 @ 8:35 PM
i have recently acquired my neighbours house its a terrace house and I am looking to just break through, 2 door ways, upstairs landing and down stairs landing. my house is a freehold but the house bought is lease hold which i will be looking to buy out if i can. my question is can i apply to the council pay 1 council tax? there will be only 1 Kitchen, and eventually one meter for both gas and elec. this is in Bolton. please help me so i have some ideas. for ref i will not be looking to sell in the future.
Muki
- 4-Mar-19 @ 9:42 AM
We are considering buying a property which was converted into three holiday letting flats. We want to use two of the flats and reinstall a staircase to give us a conventional two storey house with Kitchen, Living Room, Dining Room, 2 Bedrooms and bathroom. We would want to continue to let the remaining self-contained flat for Holiday lets. At present the 3 Flats are Business Rated. The Local Council has said we must remove the kitchenin the 1st floor flat which we will do and then apply for the 2 storey House to be Council Tax rated. We assume that the Business Rating will still apply to the remaining flat. What are the pitfalls we might come up against with Planning - Council Tax -Insurance etc ?
N/A
- 19-May-18 @ 4:07 PM
My neighbour has just informed me that he intends to knock down a wall that separates our gardens as he his building a downstairs extension to his bathroom. if he builds this extension not only will it reduce the light into my bathroom it will block my sky dish resulting in loss of transmission. He has said he will take my sky dish down and move it higher up, I do not want him to remove the dish and replace it, as far as I' am aware he does not have any planning permission does he have the right to do this?
jj
- 26-Jan-14 @ 10:18 PM
My neighbours built a single story,brick, tile-roofed, extension to their house when they moved in about 12 years ago. They maxed out on the amount they could build without planning permission at that time. Now they want to build a second story onto a different single story part of their house, (an unused garage) in order to have a second bathroon.The plans I have just seen showthe entire footprint of that garage as the base, allowing for a bathroom and large dressing room. This design involves building a wall in front of my own bathroom window, 3.5 feet away from it. They tell me that according to the local planning department for Farnham in Surrey, new planning laws mean that they could actually build this without planning permission if they put up the extension with a flat roof.They have in fact applied for planning permission because they want a tiled roof, and they say that the planning people have checked both our properties and believe it's alright to build a wall right in front of my window. Can this be true?And if they decide to go ahead with a flat roof, can they just build where and how they want, regardless of the almost total loss of light into my bathroom (and from there into my dark corridor)?
Paddy
- 28-Aug-12 @ 12:36 AM
Thie website and the information written are very useful and constructive.best website about building works and home improvement. The language used is simple, use to understand, concise... Perfect!!! Better than lots of building books. thank you very much!
candy
- 1-Jun-12 @ 2:35 PM