Planning Permission For Extending Listed Buildings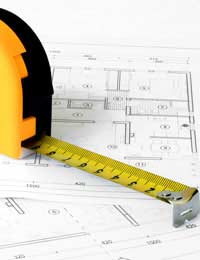 Renovating a listed building poses a lot more problems than a run-of-the-mill property, the worst being that there are few hard and fast rules about what is acceptable to the various authorities that will have a vested interest.
Listed Buildings and Planning Issues
A 'listed' building is one that has been put on a list of buildings that should be protected for heritage reasons. The rules differ around the various countries of the United Kingdom but the systems all have a sliding scale from the highest, where you basically can't touch it with a bargepole, to the lowest, which might just protect a certain part of a building, like the facade. But regardless of the level of listing you will need to get the permission of the body governing the scheme in your country before making the changes.
The issues surrounding planning permission for a listed building really depend on the extension that you are planning to make, rather than the fact that it is a listed building. In this respect it's no different to an ordinary house. What you will almost certainly need is listed building consent, and that will be done in conjunction with the local planning authority so you might as well tackle the two things at the same time.
For example, if you intend building an extension on the back of a listed building in the form of a conservatory, then whether or not you will need planning permission will depend on the usual criteria for a conservatory. So as long as it's within a certain volume, doesn't abut or overlook a neighbour's property, is contained at the rear of the house and separated from the rest of the house with substantial doors, then planning permission won't be required. But listed building consent definitely will be required.
Will Your Extension Get Consent?
Whether or not you will get listed building consent (LBC) is almost impossible to tell, so the only option is to keep submitting plans until you reach something that is favourable to both the planners and the heritage authorities. On the one hand, there'll be arguments about what is true to the building, which might be very difficult if it's been modified and extended a umber of times during its history.
On the other hand, the authorities are keen to see buildings being restored and used. So if extensions will allow older houses to be lived in and enjoyed by families again, rather than being left to rot, then they will be sympathetic to the cause and try and find a way of allowing that to happen.
Shift in Attitude Toward Extensions
In recent decades the slant toward conservation of listed buildings has changed somewhat. It used to be the case that new extensions to a building would have to be done in exactly the same materials, which usually meant using the same techniques, as the original fabric of the building. This is still true for repair and maintenance projects but there has been a shift in attitude toward extensions.
It is now thought to be better if modern extensions to a house are in a different style so that it is obvious to onlookers which is the old part and which the new. This means that you are now more likely to be asked to build the extension in a completely different but complementary style. This is harder to achieve but at least allows you to use modern construction techniques and more energy efficient materials and design concepts.
Don't Start any Extensions Without Consent
One final word of warning. Don't be tempted to overlook the listed building status and do the work without LBC, hoping no-one will ever find out. If they do, the sanctions can be very hard. Not only will you be required to demolish the new extension and repair any damage to the rest of the property but you can be heavily fined too, and even imprisoned for up to one year.
You might also like...