Building Control Regulations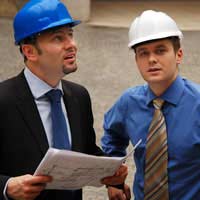 Once you have your planning permission lined up for your extension, or have satisfied the authorities that you don't need it, you are free to enter the world of building regulations. These are the regulations that govern how buildings are put together, from the foundations to the roof tiles, and most people will really need professional guidance in order to make sure that their work doesn't fall foul of them. This article gives an overall introduction to this area and there are other articles on this site which go into the subject in more detail.
Building Regulation Sections
The regulations cover many different areas and are divided up into sections in alphabetical order known as 'Parts' – 'Part A', 'Part B' and so on, up to 'Part P'. Each section covers a different area of building or a trade; for example 'Part E' covers sound insulation and 'Part P' covers electrical installations. It is possible, though perhaps not advisable, for a layperson to obtain the documents and read and understand them, if they are intent on doing the work themselves.
It is very unlikely, if you are extending your home in any way, that it will not be subject to Building Regulations, and it may well require approval by an inspector (see below). The regulations cover the permitted materials and methods used to assemble foundations, walls, ceilings and roofs and the means of installing and connecting services such as gas, electricity, plumbing and sewage. The regulations are updated frequently to keep abreast of new technologies and government guidance, the most recent example of the latter being updated insulation standards for walls, roofs and windows to make new builds more energy efficient.
Safety is Key
The main thrust behind Building Regulations is safety. The regulations state where you must have qualified people to do work, such as the connection of services to the mains. For much of the work, as long as it is done by someone who can prove they have the correct qualifications and are registered with a scheme (different for each trade or profession) that's recognised by Building Regulations, then that person can self-certify the work, and external approval will not be necessary. The term "competent person" is used in the regulations to mean someone who fulfils those criteria.
This does not mean that someone not considered 'a competent person' cannot do the work, it just means that if they do, then it will have to be inspected afterward and only approved once it passes the relevant regulations. There are some exceptions to this, for example no-one but a CORGI registered gas fitter is allowed to connect a gas system to the mains, and DIY electrical work is now nearly impossible.
Consider the Risks
For example, if a new staircase is required to access a loft conversion, there is no reason why a competent DIY-er cannot do it. As long as the dimensions, angles and materials are correct and it is secured and supported properly, then a building control inspector can be booked to approve it and it may well pass.
But there are so many little things that could be misinterpreted, such as exactly where the pitch is measured from, that it could be an expensive mistake if the staircase has to be rebuilt. Perhaps it is worth getting the experts to do the tricky parts and using yourself as a labourer, fitter and decorator instead.
You might also like...