Considering Disability Access in Your Home Extension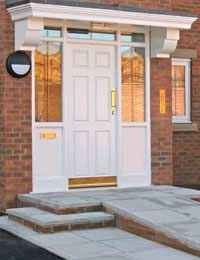 Building Regulations in the United Kingdom now require new buildings and extensions to cater for all sorts of disabilities but only for public buildings. While this has improved access for all to those buildings, it is unlikely that this will be extended to private houses in the foreseeable future. However, it is often the case that an extension to a house is constructed in order to cater for a family member who is, or who has become, disabled.
Improved Products and Prices
One good thing about the 'access for all' initiative for public buildings is that it has increased demand in the building industry for household fixtures and fittings that are usable by all sorts of people. This has had the knock-on effect of making those items more plentiful, cheaper and easier for ordinary families to source and afford. This does somewhat alleviate the difficulty of adapting a house that wasn't built with disabled access in mind in the first place.
One problem is that modifying a building for one type of disability might make it harder to access by someone with another disability, but thankfully there are good sources of advice available. Should you be in the position where you need to make an extension that can cater for disabled people, then the local planning office should have plenty of advice garnered from their experience with public buildings.
Annexes
It may well be that you are constructing an annexe where a disabled member of the family can live in a self-contained apartment, so that they have privacy and freedom, but close to the family home. In this case, the annexe will have to have attention paid to plumbing fittings for a bathroom or shower room and perhaps an adapted kitchen too, all of which takes a lot of forethought to make it successful.
It is likely that the connection to the house, and internal doors within the house, will need conversion too, to avoid the person living in the annexe being unable to access parts of the house where the rest of the family are living.
Wheelchairs
Much of the advice regards wheelchairs. There are leaflets available that describe the dimensions to allow for doorways, ramps, turning circles and slopes, and advice on how to work out the locations and swing directions for doors. Something that might not occur to an able-bodied person, for example, is to have glazed panels in internal door at different heights so that a wheelchair user can see if someone is about to come through the door from the other side.
Look to Charities
Charitable organisations that focus on particular disabilities are also a fount of information on building and modification to allow people with those specific disabilities to carry out day-to-day tasks. For instance charities for sufferers of arthritis and other degenerative diseases will have information on taps, switches and handles that are easier to grasp, turn and move than standard household fittings and are likely also to be able to help source those items.
A wheelchair user, on the other hand, may have no need for special light switches, but will probably need them mounted lower on the wall than the usual height. Charities may also have ideas about was of modifying standard fittings to make them usable for people with a specific disability, making the adaptation process cheaper and easier to bear. They may also issue grants to help those who are having trouble affording proper adaptations.
Consider Emergencies
Finally it is imperative that consideration is given, when designing and building an extension, to emergency access in case of a fire or other danger. Advice on this can be gained from local planning authorities, and is enshrined in the Building Regulations, but it's also worth asking someone from the local fire brigade to check over your plans too. Better safe than sorry.
You might also like...
@beetle. When you cannot get a response from a company, your best option is to take the case to your local Trading Standards office.
ExtensionBuild
- 2-Dec-14 @ 10:05 AM
i have a new back door fitted which on opening only just clears a radiator , this was not a problem with my old door , when the new door was first fitted the clearance was alright however since then it seems to have moved gradually so that now it only just clears the radiator . my concern is that if it moves a fraction more i will not be able to open or close the door . i have contacted the firm who looked and said the door has not moved . i was not satisfied and asked for the person in charge to contact me , this was two weeks ago and no contact has been made . i took pictures and e-mailed them to the firm however i dont know what else i can do about this matter .
beetle
- 1-Dec-14 @ 10:04 AM