Sustainable Materials for Extension Walls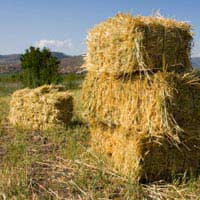 With increased awareness of the damage to our planet there is more information coming out every day about sustainable materials for building. It might sound a little crackpot but no less an authority than Grand Designs presenter Kevin McCloud built an extension to an outbuilding as an office in his farmyard a few years ago.
It's hardly surprising that he would get involved as many of the self-build projects featured on the programme use sustainable materials. This is sometimes from a philosophical standpoint but also economic need. Although many green or natural options are famously more expensive than their mass-produced rivals, this doesn't have to be the case with building, as long as you are able to access the materials.
Balancing Sustainable Issues for Materials
Trying to decide the most sustainable way of building anything is a complete nightmare. There's the provenance of the materials to take into account, transport emissions and the damage done to the environment by extracting or creating any building material.
But for the purposes of this article we are going to avoid the balancing act between all these issues and simply talk about a couple of undeniably sustainable materials you can build an extension with. There's also the added bonus that these sustainable materials will be cheap as chips if you can lay your hands on them.
Building an Extension with Straw Bales
Let's return to the straw bales, as used by Mr McCloud. You can't just get any old bales. The ones used for building have to be packed to a different density than those used to stand around in barns, so make sure that the farmer or supplier is aware of this before they start collecting for you.
In the building process the bales can be pushed onto stakes and held together with pliant branches of hazel or willow. Then, most importantly, they need to be sealed both inside and out. This can be done with a render on the outside and plaster or clay on the inside.
One of the straw bales houses featured on Grand Designs memorably showed a nearby pond being dredged for clay for this purpose and of course straw bales themselves are hardly expensive. They also are quick to build with, being much larger than bricks or blocks, and are superb insulators.
Building Extensions with Rammed Earth
Rammed earth walls are another reasonably well known sustainable material that can be used for building the walls of an extension. Earth is reasonably easy to come by as most extension projects will involve digging trenches for footings. If you don't have enough earth after that, simply dig out more.
Because the earth is highly compressed to make it stable it needs a structure to be rammed hard into. Rammed earth buildings have been around for millennia and usually used wooden planks to make a shell. The earth would then be rammed down into the shell. Once the compression process was complete the wood would be taken away, much like a concrete former.
Tyres Are Us
Today, although the wooden former process is still widely used, people using rammed earth for ecological reasons often opt for piles of discarded tyres to make the structure. Each row of tyres has earth rammed into the sides and then the middle before the next row is placed on top. The tyres become an integral part of the building once the structure is complete, unlike the wooden formers.
As with the straw bales, rammed earth walls need to be clad inside and out. In arid climates this isn't necessary but in the UK the rain and wind would make quick work of a rammed earth wall. On the inside a layer of insulated stud work is recommended, with a gap behind it. This stops dust build up but also reflects the fact that rammed earth is not such a good insulating material.
Take it to The Planners
Finally, although the government is meant to be behind ecologically sensitive initiatives, there's still a lot of fear, confusion and doubt surrounding building with sustainable materials.
If you are considering using these sustainable materials to build the walls of an extension then early consultation with planners is strongly advised. And make sure you take as much functional and factual information with you as possible, you may need it for persuasion.
You might also like...