Using a Computer to Plan an Extension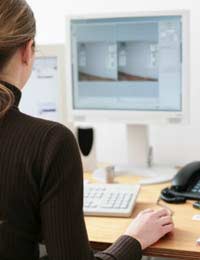 Now that many people have a computer in their home it's become viable to use computer software for planning an extension. There are three ways in which they can be used at the planning stage of an extension build:
Visualising your extension in 3D
Drawing up plans
Building cost estimating
Planning and 3D computer software will involve a fair bit of measuring. Of course you would have to do that measuring if you were using pencil and paper too, but the extra burden of using a software package comes from having to input all the data it requires in order to produce a valid picture or plan, not to mention learning to use the software in the first place. However, you can see the impact of any changes immediately, something that can't be done with pencil and paper.
Many of the 3D packages will also produce plans, line drawings and other views for you to help in your submissions to the planning department. But be careful before spending money on software as many of these packages are very Americanised. It's worth finding one that will deliver plans in a format that's acceptable to UK planning departments.
Estimating Building Costs
Cost estimating software can be very useful. By entering the sizes and volumes of all the different aspects of your extension project and the materials you are going to use you can see the total cost of the build. You can then see the effect of increasing or decreasing the size of a room, for example, or changing the quality or type of a material.
More complex cost estimating software will allow you to input the current prices of the material. This makes the package more useful as you can then see the impact of your bargaining skills. It also means the software will be usable in the future without major outlay, whereas some packages rely on paid updates that apply price movements in the industry.
What Range of Software is Available?
Software packages that professional builders and architects use are now available for home computer users although they will cost a fair bit of money. Other lesser packages are available at much lower cost and may well be good enough for your purposes. If you use an architect for the final working plans then you won't need expensive plan-producing software.
One good place to look is on the free CDs and DVDs that are given away with magazines, either building and interior design magazines or even computer magazines. Quite often software manufacturers will put an old version of their software on a disc of this type in the hope that people will pay for the new version they've just released to get the most up-to-date facilities.
Online Impact
The Internet has also changed the way software is being distributed and this has affected building software too. There are now a number of UK sites where you can get a rough estimate of the building costs for your extension. The freebie is offered in the hope that you will then pay to download the full version of the software that they sell.
Although it has to be said that for planning drawings at least it would probably be easier and cheaper to get out a pencil and a ruler. If you factor in the time taken to learn an unfamiliar computer package then it will be easier too.
So assess all the options before embracing computer software.
You might also like...
HI - can't believe you don't actually list some 3d planning software!
Bobwouldbebuilder
- 1-Mar-14 @ 12:03 PM