What to Do if You're Refused Planning Permission For An Extension Build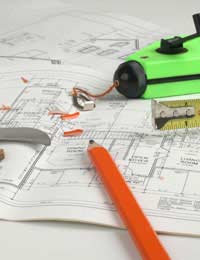 It's everyone's nightmare, getting their planning permission refused. So often these days we hear of big developers appealing to the Home Secretary to have the planners decisions overruled but that option isn't really workable for the ordinary people who juts want to put an extra room on their house. So what can you do if your planning application is turned down?
The first thing is don't panic -- find out exactly why the application was refused, because this will govern the approach you should take to getting the refusal overturned. There are essentially two options here, put in an appeal or reapply with new plans.
Putting in an Appeal
The appeal process is clearly laid out and you can find out more about it from the government's Planning Portal, a website that explains planning and building regulation issues in England and Wales. In Scotland and Northern Ireland there are similar sites and most local councils will also have websites that give details of the planning authority's processes and procedures.
The appeal is made to the Planning Inspectorate, who will review the refusal decision and see if there are any grounds for the appeal to be upheld. There is a very important point to be understood here – the planning appeal process should only be used where there is a chance that a mistake was made somewhere in the process. These are the only grounds that the Inspectorate will assess.
There's no point putting an appeal in just because you think the planners should have liked your idea, It's only worth it if you think that the planners did not understand your proposal, or they made a mistake in the procedure, perhaps only giving five weeks for objections instead of eight, something like that. If there's no doubt that the process was followed correctly but that the planners objected on the grounds that the extension did not fit in with local plans, then an appeal is likely to be a waste of time and money
Reassessing Your Plans
This brings us to the second option, which is to reassess your plans and reapply. For this you need to find out why the planners refused the application in the first place. There will be clues in the refusal notice, if not detailed ones. For example, if the neighbours complained that the addition would take their light away, it's unlikely to say which neighbours complained. If it was rejected on the grounds that it was not in keeping with the area, then they are unlikely to give options that would be more acceptable.
In this situation it's back to the drawing board, or more likely the computer in this day and age. Go round to each neighbour in turn and ask them what would be acceptable, perhaps ask to have a look at your property from their garden or their lounge to try and see it from their perspective. Don't get fixated on trying to find out which of them complained or why, try and keep it friendly by asking what they would like. It could be the size of your planned extension, access problems caused by a new drive or door, or perhaps they don't want to be able to see you wandering round in your new modernist glass box.
Get Consulting
If the problem is more to do with the design of the extension or the materials, then a re-think will be required. Planners are happy to consult with people, in fact they'd rather consult in the first place so that they have fewer rejections and appeals to deal with. If you can get a consultation and your architect can come along too, then so much the better. The planners can't guarantee that what they advise will pass the planning committee but they can give an idea of your changes, and having your architect there to make suggestions that might work will be invaluable.
So whether it's a neighbour objection or a design issue, get the plans redrawn and check that they deal with the objections and won't introduce any further complications. Then reapply for planning permission, cross everything and hope for the best!
You might also like...
An old article, but I found it whilst researching our extension which is now complete.Regarding the appeal process, a couple of points that were the case with our planning application:Unlike as described in this article, we saw all neighbours comments on the council planning website, and knew who had said what.We were told that none of their objections, such as noise, loss of light, unreasonable extension size, were valid reasons for refusal.Loss of light would have been, if it were true, using the loss of light guidelines - which was not the case.We were told before it was officially made, what the planning decision would be, which was to refuse on the grounds of "out of keeping with the area".Again unlike this article implies, we successfully changed the planners mind - before the official planning decision - by submitting a dossier showing recent plans in the area that had been approved that were less 'friendly' than our plans and pointing out that there was no uniform 'look' to the area anyway, as there were houses of all sorts of different shapes and sizes, and designs already.We were confident that we would win an appeal if it came down to that.Apparently the planners agreed, as they changed their decision to "approved" without the need for an appeal.
L B
- 15-Sep-20 @ 3:43 PM