Building a Garden Room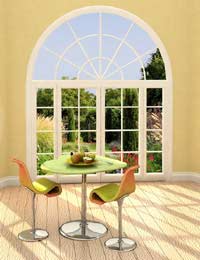 Building a room in a garden has become increasingly popular over the past decade or so and we're not talking about a garden shed either, although some of them aren't far off that. There are two main drivers for this sudden popularity of garden rooms.
Garden Rooms as Part of the Garden or the Home?
The first comes from the garden design angle. The idea of integrating the garden with the house, and blurring the lines between the two, is served well by actually putting a room in the garden. This can be used for entertaining, relaxing or just getting a bit of piece and quiet away from the family and as it offers shelter it means that more use of the garden can be made during the year.
The second angle is more as a house extension. With house prices soaring out of many peoples reach a decent garden room can give much needed extra space without having to go to the hassle of moving, let alone the cost, and it's often easier than extending. A good quality garden room can be used as a home study, a studio or even extra accommodation for guests.
Extending The House With A Garden Room
In fact, with house prices having risen so much in the past ten years stamp duty has suddenly become a major barrier to any move. Many families could now put a very good quality garden room in for less than the money they would have to spend on stamp duty levied on an ordinary family property in their area.
A garden room can be attached to a house like an extension but in that case it's more likely to be considered a conservatory than a garden room. When people talk about building garden rooms they are more likely to be thinking of a separate building in the garden than one that's attached to the house. Garden rooms can be constructed from almost any material and be any shapes. They go from bespoke contemporary steel and glass fabrications to others that are little more than glorified sheds. In between there are log cabins, tree houses, summerhouses and brick built constructions.
Planning Issues When Building A Garden Room
Note that many garden rooms will need planning permission and perhaps building regulation approval. It depends on the area, the materials you are building the garden room from and whether it's considered a house extension or not. People considering building a garden room are advised to contact their local planning department with their plans to find out what they need to do.
The construction and facilities that people decide on will be controlled by the cost, looks, and whether or not the garden room is to be used all year round. If it is, then a lot more time and money needs to be spent on the garden room to insulate and damp proof it, something that's not so necessary for a room that will only be used in the summer.
Electrical And Plumbing Supplies For A Garden Room
There will also be a need to get electricity out to the garden room if it's going to be used all year round, and perhaps a water supply too. If the garden room is not to be too far from the house then it might be possible to extend a central heating system to it but it is likely to be easier and cheaper to have a separate heating system. These issues are covered in a separate article in this section.
If the garden room is to be used as an outdoor summer space for eating and relaxing then you can dispense with the electricity and plumbing issues. Cooking can be done with a barbecue and using a lot of glass in the construction of a garden room like this means that you can dispense with the need for electric light. Patio doors can be used to provide shelter when it's windy but then folded back when the weather is warmer.
Look Around At The Garden Rooms That Are Available
The best thing to do for a garden room project is to get on the web and have a look at different designs and styles. There's everything from what is basically an insulated shed for under five thousand pounds to daring glazed structures for a lot more, and the sky is basically the limit when it comes to the cost of garden rooms.
Sit down and assess what you actually want to use the garden room for and take it from there. It's a way of extending a house's accommodation that can give a lot of pleasure too.
You might also like...
Can I put a garden room on the side of my house and Have a door going to it from the house ? Thanks mick
Mick
- 7-Mar-19 @ 7:21 AM
Some time ago my neighbours have erected a raised sitting area / sun room, it'sa lot higher than the 6 ft fence andlooksstraight through into my lounge and dining room , they rent outan annex and also take people in , so my view is all the washing they hang in there as the side to my garden is open , when they have BBQ'severybody can see right through my house taking away my privacy completely, not only in my house in my garden too, my son has just recently put up 2 privacy panels on top of our fence as I am so stressed . This does the job but is also high .
Ollie
- 30-Jun-15 @ 10:59 AM