Fitting and Plumbing in a Hot Tub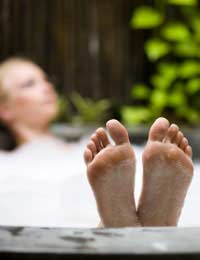 Hot tubs are becoming, like many household items, cheaper every year, and it's now not unusual to see them in gardens in the UK. They fit particularly well with decking and if you have different levels in your garden you might well be able to make the rim of the hot tub level with a decking platform, which will make it easier to get in and out.
DIY or Buy?
There are two main routes to go down if you fancy installing a hot tub. The first is to buy a ready made one, in which case installation will differ according to the make. The second is to make one yourself, probably of wood, either from scratch or using one of the pre-cut kits that can be imported from America or Canada.
But whether you buy or make your own the installation will be broadly the same. The tub needs to have a solid, flat and level surface to sit on, then electricity and water need to be supplied.
Site Preparation
The site should be easy to reach but close to an area where people can change in comfort. Assuming you don't have a leisure centre in your garden this probably means close to the house by a convenient door. It needs to be somewhere that isn't overlooked by neighbours and bordered with fences or walls that will act as a sound barrier, so that your whoops of delight don't disturb them either.
The base for the spa should ideally be concrete but paving slabs are probably acceptable. If you're making your own then it's at your risk, but if you're buying one you'll need to follow the manufacturer's instructions or the warranty will be null and void. Leave space around the site for future maintenance.
Electrical Supply
An electrical supply will be required, normally an ordinary 240V supply but it should be on its own spur from the main fuse board or consumer unit. It needs to be protected with an earth leakage circuit breaker and connected to the spa with three-core armoured cable.
A waterproof switch should be in the circuit to switch the heater and pump on when you want to use the hot tub. Some ready assembled hot tubs will come with the switch and a short length of cable to make the connection.
Of course, electrical work such as that detailed above will have to be certified as passing Part P of the building regulations. The cheapest and most effective way of doing that will be to get a qualified electrician in to do the work. If you did it yourself you'd have to pay a building control inspector to come out and certify it.
Water Supply
Some hot tubs don't actually need to be connected to a water supply, they can simply be filled with a garden hose. Others can be connected to the mains and have a tap built in, this makes emptying and refilling the water less of a chore. But the connection will need to be made with proper blue water pipe as a garden hose will freeze and then crack and leak.
Final Fitting
Once the hot tub is in place and all connected up then final fitting is usually a job of constructing a platform and steps around is so that people can get in and out easily. You should also fit a rigid insulating lid to keep the heat in.
Hot tubs heaters are usually left on permanently because the major expense is heating the water up in the first place, topping the temperature up every now and then is relatively cheap. So an insulated lid is important otherwise the heat in the water will dissipate quickly from the surface if it's left open to the air.
You might also like...
Hi I'm looking for info on installing a hot tub with boulders like a stone pond- we would like to submerge it, in a sheltered BBQ area. Can you give me any ideas or tips with this?
Ali
- 1-Aug-11 @ 11:59 PM