Home Offices in the Garden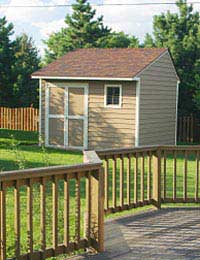 Many people working from home make do with working on the kitchen table, a corner of the living or on the landing and yearn for a home office to keep everything separated from family life. Even people who don't work from home are likely to have a computer these days with a printer, scanner and all sorts of leads and gadgets that need to connect to it. It's not long before a home office or study is needed as a place to store all this paraphernalia and a neat solution is to put it in the garden.
Home Office – The Supreme Garden Room
All the things that we've said in our other articles in this section apply to home offices in spades. If you're thinking of building or buying one it's essential for it to be properly insulated and an electricity supply is a must. It's not strictly necessary to have floor-to-ceiling windows like many ready-made home offices buildings though, and smaller windows will keep a home office warmer for longer.
Of course building a home office in the garden is going to mean connections for telephones and internet. This is probably the main difference between a garden office and an ordinary detached garden extension such as a studio, gym or games room.
Try Wireless Connections To The Home Office
Wireless may prove to be a godsend here, with a wireless router on your broadband connection in the house you might well get connectivity from the home office. If not, try moving the wireless router to different places in the main property, perhaps in a window. Or you can buy wireless repeater devices which will push the signal further out.
Similarly with telephones a digital cordless phone might work fine with the basestation back in the main property, again depending on the distance from your property to the home office. Thick stone walls can put a stop to radio signals and metal can distort it, but glass doesn't have too much affect.
Keep Wired Connections To The Home Office Separated
If you don't want to use wireless or it won't reach to the home office, then cables will need to be run. You might think it would be a good idea to run a telephone extension lead and a network cable next to the electricity supply line in a trench from your main property to the home office.
Unfortunately you might find that the telephone and the network won't work very well because of interference and the distance (particular with the telephone). Putting each cable in its own conduit and keeping them separate with one inch spacers every metre or so should keep them apart enough to deal with this problem. But it's well worth testing all three services thoroughly before you put all the soil back in the trench. Use armoured cable or conduit to prevent damage by garden implements.
A third option, but really only viable if you are staying for the long haul, is to get a new separate line for business and run it directly to the home office in the garden. BT may make some infrastructure requirements such as a solid mounting plate somewhere to take the connection from the nearest telegraph pole or underground connection. You will also have to clear this with neighbours too if the cable will be run close to their property. But if it can be made to work then it's a neat solution.
You are likely to need more than a couple of power sockets too but don't be tempted to just overload with 4-way power sockets everywhere. It's far better to get a correctly rated connection out to the home office from the main property supply and use a properly qualified electrician to sort that out.
A Home Office Adds Value
The best news is that with working from home becoming more and more commonplace, a good quality home office will add value to your property. Many people who have built an extension of this kind have had valuations for their properties that have gone up by double the amount that they invested in the garden office.
You might also like...