Building a Car Port or Garage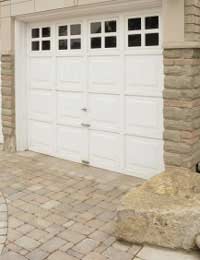 Building a car port or a garage is a popular way of extending a property. In urban areas where older housing wasn't built with cars in mind off-street parking can add significant value to a property and that value will be increased if you can fit a car port or garage in as well.
Planning Issues For A Car Port Or Garage
Let's look at the planning implications first. If you already have vehicular access to the property and a drive or parking space then you will probably not need to apply for planning permission for a garage, at least in England and Wales. New planning regulations came into force in October 2008 that treat garages and outbuildings as 'permitted development' as long as they fit certain size and positioning constraints. Note that different areas of the UK have different regulations, particularly if there is a conservation order on the area so it is wise to check first.
Car ports do not usually need planning permission as they are treated as temporary structures, as are some ready-made garages. There are many other regulations, for example you will almost certainly need planning permission if any part of the garage or car port is nearer the road than the front of the house, so it's best to check with the planning authorities to be on the safe side.
As far as building regulations are concerned they usually do not apply for either garages or car ports as longs as they are detached single storey buildings more than one metre from a boundary and made from non-combustible material (which explains the popularity of pre-cast concrete garages). Car ports do not need building regulations approval as long as they are open on two or more sides and cover an area of less than 30 square metres.
Car Ports For Shelter
Car ports seem to be less popular these days, probably because ready-to-assemble garages are now a lot cheaper than they used to be, also they offer less protection from theft than a garage. Where they can be useful is in front of a garage, particular if the garage is set back from the house and the drive is alongside it. In these situations a car port can offer valuable shelter for parking the car and unloading the shopping in the rain before putting the car away in the garage.
Car ports are nearly all now made from glass reinforced plastic (GRP) with translucent roofs. They can be freestanding structures supported by pillars or attached to the side of a house or garage with pillars on the far side for support. There are also now cantilever canopy designs that simply attach to the wall so they have no visible support and require no ground works.
Garages Offer More
Garages require a lot more in the way of preparation than car ports but you get a lot more flexibility. For example you can put electrical outlets and running water in a garage. The base needs to be solid and properly constructed, even if a lightweight ready-to-assemble garage is going on it. The floor needs to have a slight fall on it to ensure water drains away unless it is constructed with proper foundations and walls.
Garages can be made from almost any building materials and recently rustic-styled wooden clad garages and coach-house style open fronted garages have become popular. These are beginning to come down in price now as kits become available for self-assembly, so that might be worth investigating if you are looking for a garage with relatively affordable style.
You might also like...