Erecting a Studio in Your Grounds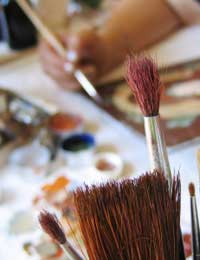 Erecting a studio in a garden is a popular option for people who would like a sanctuary where they can be creative. Keeping the artist's paraphernalia in one place away from the home has its benefits too, often just as much for other members of the family as the artist!
Building a Garden Studio for Creativity
Often a separate building for a studio can be cheaper than extending the house, as there doesn't have to be any alteration of the existing building. The building materials also don't have to be so robust for a studio unless it is intended to be permanent living space as well.
It's also psychologically useful to have a studio as a separate building in the grounds. The separation means that the distractions of day-to-day living are kept out of the way, and the journey down the garden path can be a useful part of the preparation for creative work as opposed to domestic work.
At the same time a studio in the grounds is near enough to be able to take deliveries and do other necessary jobs, and it's less likely to be commandeered for other uses, as it could be if it was an extension of the house.
Using Glass in a Studio
The word studio usually makes people think of an artist's studio so the building is likely to need large windows to make the best use of the natural light. These large expanses of glass will make the building difficult to heat though so perhaps a middle ground needs to be found. Using double-glazed skylights which allow a lot of light in might allow smaller side windows to be used.
However, a studio can also be used for music or many other activities where light isn't so much of an issue. In these cases windows can be smaller and the studio will therefore be easier to heat.
Insulated walls are crucial, as are well fitting and double-glazed windows and doors for all year round use. Unless it's a particularly small studio you should also have guttering which drains to a soakaway some way away from the studio, to avoid damp problems at the base.
Extending Services to a Garden Studio
An electrical supply will be required for most studio uses, with the exception perhaps of painters and sculptors. Even then, not having an electrical supply will mean that work will have to stop before twilight which could be a major disruption in winter months.
Many studio uses will require running water, sinks and drains, which are potentially more difficult to achieve than an electricity supply, depending on the layout of the house and grounds.
Heating is likely to be required as well, with the options between electric, gas, solar or solid fuel all having their advantages and disadvantages. There's more information on extending electrical and plumbing facilities to garden buildings in a separate article in this section.
Take a Look at all the Garden Studio Design Options
Browse the options available from the many suppliers of garden studios that are springing up to cater for the demand. There's every sort of construction from contemporary glass structures to wooden buildings in modern and classic styles.
But beware if you only have access to your garden through the house. You'll need to make sure you buy a studio that's constructed on site rather than pre-built and delivered in one piece.
You might also like...
I want to build a house at bottom of garden, Neighbours 6,7,8,9,10,11 houses away have built 2 storey houses, but not my next door neighbours. Surrounding me are just large garages (single storey but some with pitched roofs) built right up to property margins so no 1 metre separation. What is my best bet for easy planning permission? a single storey 2 bed "granny annex". a two storey 2 bed house (again an annex but flexible to allow potential later sale). Do I plan to use whole plot or must I leave 1 Metre separation from boundaries. I just don't want to spend years in planning appeals and redesigns.
Badger
- 30-Oct-20 @ 7:59 AM