Connecting an Extension to the House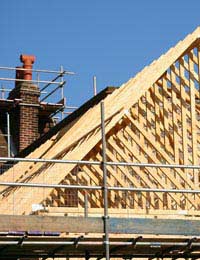 Wherever you're putting your extension it's important to think about how people can get to it from the rest of the home, and it's how you do that that often makes the difference between a good job, where the extension blends in harmoniously, and a bad one, where it looks like a bit of a hotchpotch. This can make quite a bit of difference, particularly when it comes to the amount that the extension puts on the resale value of the house, when the time comes to move on.
Separate Buildings
Of course, your extension may not be physically attached to the house; it could be a garden office, a studio flat in the roof of a garage, or some other stand-alone building. In which case, you only need to lay a path, and consider whether or not you would want a covered walkway as well, to keep the worst of the weather at bay.
This could be a pergola, or something similar, so that it doesn't look out of place in the garden, and might be a good idea for an office or a studio, where you would expect to walk back and forth a number of times a day, in all weathers.
Single Storey Extensions and Conservatories
Assuming your extension is a bit more traditional, such as room or two at the back of a house, then you may have the simple option of opening out a window, French windows or patio doors to allow a large opening into the new space. However, if it's a conservatory, you need to be aware of the relevant building regulations.
One of the things about conservatories that has made them so popular in recent years is that they do not require building control approval (see our section on Building Regulations for more details) as long as they conform to certain criteria. One is that there are doors between the conservatory and the rest of the building, and they need to be exterior quality doors, not just flimsy internal doors. If you have to create a structural opening or widen an existing one to allow access to the conservatory then this too will need approval.
Double the Storeys, Double the Complexity
If your extension is a more ambitious two-storey one, then this problem becomes a bit more complex. The same issues exist downstairs, but now you will also have to think about how to create extra access for the new bedrooms and bathrooms that might figure in your plans.
It's not good to create bedrooms that can only be accessed from other bedrooms, although this arrangement can be seen in older cottages. Modern living demands a bit more privacy and sometimes the only way to create access into the new rooms is by creating a long corridor or chopping part of an existing bedroom out to allow a path from the landing to the new room.
The former, creating a long corridor, should be avoided at all costs, as it will be dark and unwelcoming, and modern interiors are all about light and space. Look at the floor plan of the upstairs as it exists now and how it will be when the new spaces are added and consider the whole layout. Even moving a bathroom, expensive as it may sound, might be a better idea if it allows a better overall floor plan, as much of the money spent could be recovered in a sale later on if you can make it all fit together well.
Consider an Architect
The ultimate aim is to have an extension that simply doesn't look like an extension, that is to say that it looks as though the house was designed like that from the very beginning. This is one situation where you may well appreciate the services of an architect, as they might be able to come up with a layout that looks great, is coherent, and that you might not have thought of on your own.
You might also like...