Installing Doors and Windows to Your Extension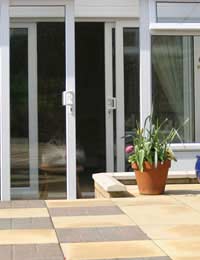 Doors and windows are a crucial part of any building job, particularly with extensions, as they are one of the keys to making your extension blend in with the rest of the house.
Wood or Plastic?
It's almost certain that you will want to put double-glazed window units into an extension, because they are far better insulated and can now be bought from the larger DIY stores or online. These will almost all be uPVC though, and if the rest of your windows have wooden frames, they are unlikely to match properly.
Wooden framed double-glazed units are available but it's harder to find them off the shelf and you may have to get them installed by a specialist company. They will almost certainly be more expensive in the first place, then having to pay to have them installed will increase the price, but it may be worth it in terms of resale value compared to putting in plastic units that don't match.
Match Positions and Proportions
It's not just the material that makes a difference either. Try and plan your extension so that the doors and windows match the rest of the house in terms of their size and proportion, and are positioned with the sills and tops lining up with the existing windows, if at all possible. This will help unify the new building to the to the existing home.
You may be restricted as to the windows and doors that you can add in any case, particularly if you live in a Conservation Area, Area of Outstanding Natural Beauty (AONB) or other area where planning rules are more restrictive than the norm. If that's the case, then arrange a meeting with planners before you start work or apply for planning permission. Most planning offices will be very helpful in the early stages as they'd rather have building work done correctly in the first place than have to go round correcting works and taking people to court for infringements.
Doors
With doors, take all efforts to make sure that they blend in as much as possible. For doors that are going to be visible on the street or to neighbours, look around to see what sort of doors are traditional to the area and what people have installed as replacements. See which ones look right and which don't, before making a decision.
Also be careful with some double-glazed doors that are more suitable for garden doors than front doors. The handle and locking mechanisms often don't allow the door to be locked without physically locking from the inside. This doesn't give a good impression to visitors, as you have to lock them in as you close the door behind them, otherwise someone could open the door from the outside. This is also a fire hazard as you would have to find the key to unlock the door before making your escape.
Plan Carefully
There are also other considerations for doors such as their placing in the new build. An architect can help here, but if you are confident you can design the extension on your own, think carefully about decisions such as way the door should open, whether or not there is room for the door to swing fully open.
On one occasion, a front door in a new hallway, part of a two-storey extension that involved moving the staircase into that new hall, worked well until the new staircase was actually installed. Once it was in, it was immediately apparent that the front door would not open fully, as it hit the bottom stair. This made it almost impossible to get large items of furniture, such as wardrobes and chests of drawers, up the stairs.
The eventual and rather inelegant solution that was eventually implemented was to cut a large notch in the lower stair. Only careful and thorough planning can avoid mistakes like that.
You might also like...