Self Building Your Extension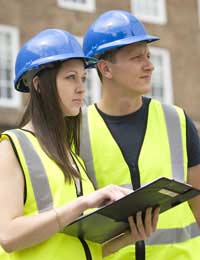 Self build often refers to the construction of whole houses, and while that's often the case, there's no reason why it can't apply to an extension to an existing house. A home extension needn't be difficult, but you need dedication because there'll be upsets and delays no matter how much planning and forethought you put into the project.
Self Build Conservatories
Conservatories are a good example of a relatively easy self build project. Kits can be bought for a lot less than two thousand pounds these days though it might be worth shelling out a little more if you get significantly better quality. Make sure you get one that fits the look of your house or it may not add a significant amount of money to the house when it comes to selling.
Even with a conservatory in kit form there's still a lot of work to do. Groundworks are hard physical labour but shouldn't present any technical problems for most self builders. Connecting plumbing for heating and electrics might present more difficulties though, but at this point there's no difference between a kit and a self build using raw materials. Look at the articles on the rest of this site for further details.
Consider a Home Extension Built From Scratch
That step from building a home extension using a kit to doing it from scratch isn't as great as many people think. A lot of the skill in building is common sense with added knowledge about the right materials and techniques, and knowing when and where to use them. If you are a competent DIY-er then some well-chosen books can fill in the gaps in your knowledge.
One of the joys of a self build is the freedom to choose your own materials. Of course cost will be a major issue but many self builders are using that freedom to choose sustainable materials, and this usually means building from scratch. Those people are likely to be super-insulating the extension too so that it can be carbon neutral if at all possible.
Self Build Insurance
One major point about self building a home extension is that you need to make sure that your insurance will cover you. Not only should you update your household and contents insurance to cater for the home extension and it's contents, you need to cover yourself for possible damage to other people or their property while the self build project is in progress.
There are a number of specialist insurance policies for the self builder and many of them cover home extensions. The policies can cover public liability, employers liability (so you are covered in relations to workers you employ for specific jobs) and can optionally cover loss of building materials and tools from the site. If you value your home extension project then it's well worth considering self build insurance.
And in fact, if you've borrowed from a bank or a building society to make the self build happen, then it is likely to be a requirement of the loan.
You might also like...
Hi, I live in a small two-up-two-down terrace house, and I've never done anything like building an extension before, but I simply cannot afford to pay a tradesman to do if, so have to do it myself. How difficult is it to build a single storey, 8' x 8' x 8' extension onto my kitchen? Thank you. Mick
Mick
- 15-Nov-13 @ 3:02 PM