Eco-Friendly Building Options for an Extension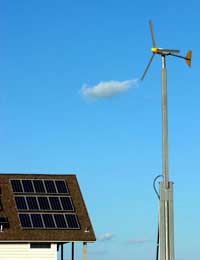 Interest in eco-friendly homes had never been so high, particularly now that it is largely accepted that our activities are damaging the planet. If you are building an extension and you want it to be as green as possible, there are three main issues to consider:
Energy efficiency of the building
Power generation
Choice of building materials
Insulating Against Climate Change
It makes sense to insulate the new build as much as possible, going even further than the new government building regulations that cover insulation. If there's a lot of glass in the building (a conservatory, for example) then double-glazing is a minimum; you may also consider special glass such as Low-E, which has a coating that reflects radiator heat back into the room while allowing the sun's heat through.
Depending on your chosen building method, you can also install insulation that's not as damaging as fibreglass or some mineral wools. There is now a wide choice made from wool, natural fibres such as hemp, or cellulose from recycled newspapers. Many of these come in the form of blankets or batts than can be cut to size or shape and slotted in, or in a semi-liquid form that's blown into the cavities.
Underfloor heating is another option worth considering. It's very difficult to install in an existing house but installation while building an extension is a lot easier and it can usually be added to the current central heating system. It is more expensive than installing extra radiators, but the water inside only needs to be heated to around 40-50 degrees C, as opposed to the 85-90 of radiators, making running costs lower. In addition, you get even heat throughout the rooms, floors that are warm underfoot, and no radiators to get in the way around the walls.
Generating Power
It is also easier, when building an extension, to install mechanisms to generate power, something which again is cheaper and easier to build in at the start than retro-fit. Solar heating panels can be put on a roof and linked into a heating system to provide hot water, or photovoltaic (PV) cells can provide electricity. If you can install enough PV cells, it's possible to sell surplus electricity back to the suppliers when you are generating a surplus.
It is now possible to buy PV cells in the same form as traditional roofing tiles, something that could make them more acceptable to planners if you are in an area that is subject to restrictions. They are a lot more expensive than ordinary slates though, so you need to take the long-term view. Wind turbines can be installed but are unlikely to deliver any real gains unless you are in a very windy area or can get permission to mount the turbine on a high mast, where the wind speeds are greater.
Material Impact
You may also want to choose materials that do not use a lot of resources in their construction, as breeze blocks and concrete do. They are undoubtedly the cheapest, that's why they are so popular, but this, as with so many eco-choices, comes down to your choice of how far you are prepared to go.
It might not be possible to use some of the more unusual eco-friendly materials such as straw bales or rammed earth, if you will not be able to blend them into your house, although planners are getting more used to seeing these options and are less likely to turn them down these days. Wooden frames are a more acceptable option; they act as carbon dioxide stores and are renewable, as long as you ensure that the wood is obtained from a reputable source.
A large exposed wooden frame using green oak timbers and construction techniques similar to those used for mediaeval barns can give a wonderful cathedral-like atmosphere. Or, if that's not going to blend in with your home, the frame can be concealed behind boards or plaster and no-one would know it wasn't an ordinary brick-built extension.
Research and Choose
As has been touched on above, these choices are not easy to make. As well as the ecological pros and cons to weigh up with many of the products available, there also financial considerations. The only way out is to research the options in each category, weigh up the pros and cons and assess the affordability of each one, then make your choice.
You might also like...