Replacing Windows: What are the Fire Regulations?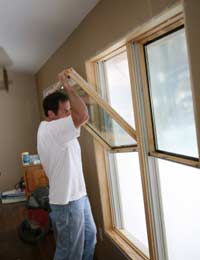 Q.
I am replacing my wooden upstairs bay windows, with uPVC windows. I wanted my new windows to open outwards at 90 degrees (as they do already) however I have been told that I cannot have this because of the FENSA fire regulations. These regulations state that I cannot have a smaller window opening (and the upvc frames are bigger than my wood ones because FENSA decrees it) so therefore I have to have a top opener, so that the window opening size remains the same as those I already have - so that a fireman can get in!
Is this a correct interpretation of the FENSA rules?
(J.B, 5 May 2009)
A.
Yes, as we used to say in the building trade (and probably still do), the great thing about standards is that there are so many to choose from. And the great thing about building regulations in particular is that they can be interpreted in many different ways too.
FENSA and Building Control
The main issue here is that although FENSA is a good source of information about window and door regulation, they are not the regulator and do not make the rules. You should really refer to the local building inspector to find out exactly what they think you can and can't do. If that contradicts FENSA's guidelines to the contractor then hopefully you can get FENSA to argue it with your building inspector and they can sort it out between them.
The confusion is compounded by building regulations often being interpreted differently in different regions, so what we say here may be directly contradicted by the building inspectors or fire officers in your region. But we'll try and make some sense of the situation.
FENSA, for these who haven't come across it before, is the Fenestration Self-Assessment Scheme for window installers. Set up by industry bodies it attempts to regulate window installation companies and ensure that they comply with building regulations.
Building Regulations and Fire Escape Windows
As far as we can work out from the building regulations you should have an opening in the bay window that's at least as big as the opening of the current window, but we haven't found anything to dictate that the opening has to be from the top as opposed to on the sides.
You might be able to get your 90 degree opening window if it is supported by secure stays with a release mechanism in case of fire, has the supplier discussed that? Look for 'egress' fire escape hinges in catalogues or on the internet to get an idea of what's available. The situation of the room within the house and availability of other fire escape routes will also affect what you can do with your windows.
Sorry that we can't give a hard and fast answer here but the definitive source of help will be your local building control department which is usually sited with the planning authority. Good luck!
You might also like...