Underfloor Heating or Night Storage Heating?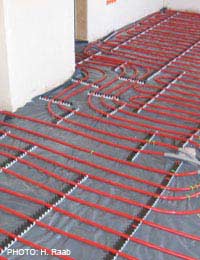 Q.
We have a timber frame house with night storage heating (that we are happy with as the house is well insulated).
We are going to build a timber frame extension (again well insulated) which will be a dining room and we are not sure whether to install a night store or underfloor heating.
Running costs are the main consideration as the room will be in use most of the day. Please Advise
(Mrs Susan Cullivan, 29 December 2008)
A.
It's going to be difficult to give a categorically correct answer without knowing more about the project, such as the size of the extension and the house itself, and what your current running costs are. But certainly if running costs are your main consideration then making sure both the house and the extension are well- insulated is by far the best approach, as you are obviously aware.
Underfloor heating is difficult and expensive to fit into an existing property unless you are completely renovating but in a new build it shouldn't be a greater additional cost to the build. It will be more than fitting a few storage radiators onto the wall though. You don't mention whether the underfloor heating that you are considering is based on electric elements or fluid in buried pipes, or how you intend to power the heating.
Solar Heating and Underfloor Heating
From an ecological point of view as well as running costs, solar heated water and underfloor heating go well together as the heat needed for pipes under the floor is between forty to fifty degrees (Celsius) as opposed to the 90-odd degrees required by central heating radiators.
However, whether you intend to use solar heating or another method of heating the water, you would still require the installation of a separate system and therefore the installation costs would be disproportionately high. Assuming that you have to take installation costs into account when making your choice, this is likely to eliminate underfloor heating by heated water.
Electric Underfloor Heating
Electric matting for use in underfloor heating is relatively new on the market and until recently was only available in small mats for use in bathrooms and wet rooms. Now larger and more durable matting is available but the real impact on costs is that it will have to be turned on (in your case at least) throughout the day, so you won't be able to benefit as much from off-peak electricity.
This means that simply adding to your existing storage heating is likely to be the pragmatic choice for economy. Using cheap night-time electricity to build up heat which is then released throughout the day will work well as long as the house is well-insulated, so the warmth lasts until the end of the evening.
It is a shame though. The benefit of underfloor heating isn't just that a constant temperature can be maintained from a lower heat output than radiators. There's also the benefit of not having radiators on the walls. This makes interior design and decoration easier as you have more flexibility in terms of furniture placement, window treatments and other decorations.
You might also like...