Can I Fit Restraints or Bars to Windows?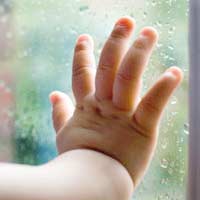 Q.
I have recently been invited to see a newly constructed house which I hope to buy. The windows, including those in the bedrooms on the first floor, are easy to open, being double panes opening outwards and held closed by a single catch. No lock is provided.
I am concerned that my young children could open them easily and that if they did, both sides of the window would open to its full extent allowing a child to crawl out. The builder tells me that he is not required to fit any sort of window catch restricting the degree to which a window will open and that exit in case of fire must always be possible.
If he is right, I assume that I cannot fit bars or any other restraint? Also, are builders not legally compelled to fit windows with locks these days?
(G.H, 21 April 2009)
A.
I have to admit that this had us quite surprised and confused here at the ExtensionBuild office. No one could remember ever seeing a casement window without at least a window stay to restrict the opening. Apart from the safety aspect a stay will hold the window open against wind, without one it would bang to and fro.
Reading your question through again it's possible that there are stays at least, but they don't operate by default, i.e. you have to put the rod or bar over a peg once you have opened the window. Of course a child is unlikely to know how to do that, and even less likely to actually do it.
Building Regulations Very Light on the Matter
We were further surprised to find that there isn't much that explicitly covers this issue in the Building Regulations. There seems to be a lot more about fire safety and in particular the requirement for windows that will allow escape from fire. This is what your builder has picked up on, and yes, he is right.
An 'escape window' should be at least 450mm in height and have an unobstructed opening area of at least one third of a metre. It could be that you can fix one side of the casement window and still satisfy this requirement, in which case you'll then only need a childproof stay on the opening side.
Window Openings in Section K
What little there is in the Building Regulations about restricting window openings comes from Section K2, which is about protection from falling. There it states that there should be restrictor stays on both casement and sash windows on the first floor or higher of a house.
But this is only necessary if the sills are within 800mm (just over two and a half feet) of the floor. We have noticed a trend toward higher sill levels for first and second floor windows in new build houses recently and wonder if this is to avoid the extra cost of the stays?
If there are no stays at all then it would appear your builder is in the wrong, unless the window sills are all higher than 800mm. But if that is the case, then he is in breach of the regulations regarding 'escape windows' as the sill height of an escape window should be lower than 800mm.
Window Bars or Child-Proof Stays?
With regard to window bars, they can be fitted but need to have locking catches that can be released quickly from the inside. These are expensive and don't look good, so child-proof stays (ones that come into action by default as the window is opened) would be cheaper and have less effect on the look of the house.)
Finally although there is no requirement for your builder to fit locks on any of the windows, they are very common in new builds. This all makes us wonder: if the builder is cost-cutting to that extent, where else have corners have been cut?
You might also like...