Building Conservatories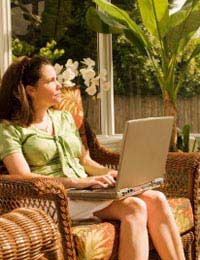 The explosion in popularity of the conservatory as a house extension since the 1990s has come about as a result of three factors. The first is that double-glazing technology improved so that companies were able to offer cheap and good-looking extensions at the fraction of the price of a brick built one.
Linking the Garden to the House
The second was popularity of gardening programs that promoted the idea of the garden as an extra 'room' of the house. A conservatory can bridge the gap between the garden and the home, and can be particularly useful in the United Kingdom, where the weather often gets in the way of enjoying the garden.
Building Control
The final one is that conservatories are exempt from building control regulations, as long as they are within a certain size and separated from the rest of the house by doors. It's not often realised that these doors have to be external quality doors, not more flimsy internal doors, so many current conservatory installations are not strictly legal.
If you want to integrate the conservatory with house and not have these doors, then building regulation approval will need to be sought. This is not in itself a particularly onerous task, it's just that conservatory companies prefer not to do it as it makes the whole project simpler and quicker, hence more profitable.
Decision Making
There is a bewildering choice of conservatories from numerous companies on the market but the choices essentially boil down to seven areas:
Choice of material, wood or PVCu
Glass or plastic glazing
Full height glass or a dwarf wall
Colour and style
Size and shape
Installed or DIY
Price
As a frame material, wood is more expensive than PVCu and requires more looking after, but for some houses it would be a crime to fit a plastic conservatory. Plastic glazing can' be used on the side of the conservatory as it won't pass safety restrictions but it is allowed on the roof and is cheaper than glass, but discolours quickly. These two choices really come down to how much you want to spend and how important the look is.
Style and Form
Having a low (dwarf) wall for the lower third of the side of the conservatory again ups the price but may give a more pleasing result as it helps to make the extension seem more a part of the house. As to colour, most conservatories are white or cream, but wooden ones can be painted any colour you like and a few companies now offer a colour range in PVCu, though most can only offer white or a wood-stain effect. If there is a colour that's common in your area, grey-green in the Cotswolds for example, then it may be worth finding a company that can deliver in that colour.
Style choice can be tricky as there is no standard as to what constitutes a 'Victorian' or 'Edwardian' style; these are purely labels applied at the whim of the manufacturer. It's best to decide on the style elements that you like, such as ornate ridge details, size and shape of window panes, and then find the model to suit from a manufacturer that seems to be of the right quality.
The shape of a conservatory may be forced upon you buy the arrangement of your house and garden but if you have some scope for choice, the more complex the roof is, the more expensive the conservatory will be. So the cheapest will a 'lean-to' rectangular room and the most expensive one that has a lantern roof, a couple of corners, and curved bays.
Installed or DIY
Whether to install the conservatory yourself o have it fitted really depends on how well you think you can do the work and whether or not the supplier will allow it. Many conservatory manufacturers will only install themselves as they make more of a profit and can control build quality. DIY conservatories, particularly the ones offered by the DIY stores, tend to be cheap and very low quality. Certainly if you want a bespoke wooden conservatory you are unlikely to find a manufacturer who will sell it to you for a DIY installation.
Price
Finally, the price is a major factor. A DIY conservatory can be bought for as little as £2000, but if you go the whole hog it is just as easy to spend £30,000 for one that covers the same area. And it's not just the conservatory and installation costs, there are costs associated with getting lights, power sockets and heating in, not to mention flooring and curtains or blinds. So do the research, decide how much you are prepared to afford and what you priorities are, then make your choice.
You might also like...