Using Wood Structurally in an Extension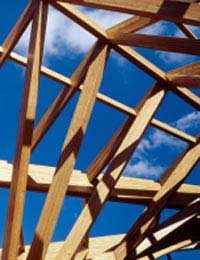 One of the most dramatic developments in extension building over recent years has been the use of wood structurally. Taking inspiration from medieval barns and crux-framed houses, large-beamed houses and extensions became the darlings of the property television programmes that exploded across our television screens during the house price boom.
Quick to erect extensions
The reasons were easy to see – dramatic elevated ceilings, large open plan rooms and beautiful, natural wood beams on display. Wood frames are quick to erect too, so although the whole extension might be more expensive than using ordinary block construction, the speed of erection cuts down labour costs and can compensate to some extent.
Once the frame is up it can be clad, roofed and then fitted out from the inside. If the frame is clad in large panels it can be water and weather tight within a week of the frame arriving on site, depending on the size of the extension.
Different styles of wood-framed extensions
When we see wood-framed extensions on the TV they are usually the dramatic, cathedral-type buildings with exposed rafter and acres of glass instead of ordinary walls. And it's that kind of treatment that makes them more expensive, the extra cost of the glass and fittings.
But they don't have to be that style. A timber-framed extension can be clad in panels and painted, both inside and out, so you don't see the frame. This way they are indistinguishable from a block-built extension from the inside and outside, and can be cheaper as a whole. You can, of course, clad the outside of the structure in blocks, bricks or tiles of your choice.
Wood-framed extensions don't need to be oak, either. The TV programmes focusing on grand designs tend to feature green oak frames, with pegs and dowels at the joints. These are effectively recreations of medieval house and barn designs and although they can be clad with brick, stone or wood, tend to have a lot of glass too.
DIY and self-build benefits
But in much of the rest of the world timber-framed houses are the norm, and these construction methods are getting more popular in the UK, particularly as the frames can be produced in a mill and factory then transported as a kit to be assembled on-site. This has made wood-framed houses and extensions increasingly popular, particularly with self-build projects.
Pine from sustainable forests in Scandinavia provides most of the frames for this type of extension and they will use metal brackets and screws or nails to secure the joints, rather than pegs and dowels. With pine being cheaper than oak and the fixing method requiring less precision in the factory, these frames end up costing a lot less than traditional-style green oak.
Energy efficiency and costs
A wood-framed extension can be very warm and energy efficient, although of course it depends how you fill in the gaps. Using the most up-to-date pre-manufactured panels inside and out and filling the cavity with the highest spec insulation you can afford will get you the best energy efficiency and value for money. Cladding with glass will require the highest-spec double-glazed and coated windows to keep the extension warm, and this will cost more, naturally.
If you want to clad the outside of the extension in brick, stone, tile, or a similar material then you will still get good energy efficiency but your costs will be higher. That may be worthwhile for you if you want the extension to blend in with the rest of the house. This is a very important consideration, both for your own use and for when the time comes to sell the house.
Assembly and fitting
Green oak frames usually require a skilled team to assemble them. But because the assembly of a pine timber-framed extension doesn't require any particular building skills, these can be erected by someone with competent DIY talent. Prepare foundations as per the instructions from the manufacturer of the extension then assemble it
You will need to get a team of helpers in as the spars of the frame will be very heavy, and erect scaffolding to help you get to the roof or upper floors safely. Many people will ask the manufacturers to assemble the frame for them and then just do the internal fitting out themselves.
You can do as much or as little of the internal fitting as you feel comfortable with, but of course you will have to get qualified people to connect up and certify gas or electrical work. Refer to other articles on this site for more details on all aspects of the build.
Look for wood-framed extensions on the web
There are many companies selling extension kits and customised designs, whether they are oak-framed or pine. So look at our articles on deciding what you want from your extension, in terms of style and function, then have a google and see if you can find a wood-frame company that has something that fits your needs.
You might also like...
We have a single-storey dining room with a flat roof. When we bought the house, the vendors told us the foundations were deep enough to support a second storey although of course I don't know whether that's true or not. If it is, would it be very costly to add another floor? It would be next door to the master bedroom and I'd like to put in an en-suite shower room, with space I'm sure for a single bedroom also.
Ann
- 2-Oct-15 @ 10:11 PM
how can I find out , how I cut a bird mouth joint , accurately, as I always seem to get some lengths short and others the bird mouth is not a good fit????? cheers!!
Quinn
- 30-Dec-13 @ 3:04 PM
The framing in an extension is always going to be wood. It's easy to do, cheap and structurally sound. This is more about the finishing, and it's true that good wood can look beautiful and last for years if properly finished. The downside is that harder wood is more costly as a material and you need expert craftsmen to work it properly – and they cost more.
Ian
- 26-Sep-12 @ 1:24 PM