Creating a Self Contained Annex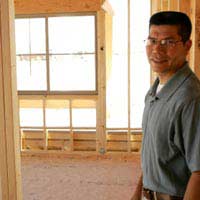 Many a new home extension is built to create a self-contained annex for someone to live in. But care needs to be taken to make sure that the extension is clearly an annex, or planning authorities may treat it as a separate dwelling.
Annex Extension Overview
The purpose of an annex is to allow someone to live in a part of the property on their own but with the family close by if need be. So an annex may be needed for a family member who is on their own for some reason, an elderly or disabled relative. Sometimes they are created for a live-in nanny or to rent out as student accommodation.
An annex has to have all the things that a miniature house has, places to cook and wash as well as living space. Sometimes garages are converted into annexes but you need to be very creative with the space to fit a bathroom, kitchen area, bedroom and living space all into that small amount of space. If that's what you're thinking of doing then it's worth extending the garage at the back, if you can, to give the annex little bit extra.
Annex Layout and Planning
When you're planning an annex the layout needs a great deal of thought because of the space considerations. The obvious thing to do is combine room uses in some way. You can't combine the kitchen and bathroom because of building regulations about keeping food preparation areas separate from toilet facilities.
But you can combine the living areas, having one room acting as a lounge and bedroom, perhaps with a sofa-bed. There's nothing to stop you putting a kitchen area in this room as well, in fact most studio apartments take this approach. You then have one room with everything in it and just a bathroom leading off it.
Small Bathroom Layouts
The bathroom doesn't necessarily need to have a bath either, most annexes will only have a shower, basin and toilet in the bathroom. The current fashion for wet rooms works well in small bathrooms too.
But be wary of installing wet rooms in the UK as the climate means they rarely dry out properly unless they have underfloor heating. You may be creating a damp problem for the future.
Building Constraints for an Annex Extension
From the point of view of building the actual extension, there's little extra you need to know. It's technically no different to an ordinary extension that includes a kitchen and a shower room, apart from the constraints on space.
You will have to plan the services very carefully because of those space constraints. With a more traditional extension on the back of a house you can, to a large extent, run the trenches and pipework for sewage, waste water and any necessary services around each other.
Digging for the Right Layout
In the confined space of an annex, with its dense arrangement of services, careful planning will be required. You may need to excavate most of the area to work out where service trenches and pipework can go without getting in each other's way.
You will need to make sure they can link to the existing services too. It's not unusual for the design of an annex to be completely turned on its head to make easier links to existing services.
Further Discussion on Planning Issues
As has already been mentioned there are some specific requirements for an annex to be considered an annex at the planning stage, rather than a separate dwelling. Take a look at our article in this section, it covers how to get the result you want from the planning office.
You might also like...