Extending for a Home Office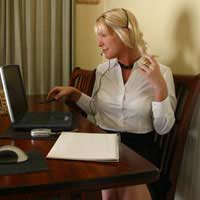 With increasing numbers of people working from home, whether it's full time or just catching up in the evenings, the need for a separate space for the computer, desk and chair is one that many families feel.
Computers are Getting Everywhere
And even if you don't fall into that category, the fact that computers and internet access are increasingly common means that many households need a separate space, even if the computer is just a recreational tool or study aid. Otherwise it's in the same room as the television, or maybe in the dining area, which is far from satisfactory. This growing need is evidenced by the rise in popularity of studies on the ground floor of many new-build properties too, at least once you get above the three bedrooms range.
But does an office need to be a special room? Surely a bedroom or a small reception room can do the job just as easily? The answer, as is so often the case, is that it depends on what you use it for. If you're designing a home extension and thinking of making a space for working then you need to look at what's needed and plan accordingly.
Recreational Use
For a recreational use or a study space then the smallest bedroom would probably be fine, particularly if there is wireless internet access in the home as it removes the need for a phone line and extra cabling.
One popular option is to combine a study with a guest bedroom, as the computer is not likely to be used when guest are being wined and dined. This is a good option if you are doing a two-storey extension, or even more, where you will be expanding the bedroom space as well as the downstairs area. Also, if you invest in a good quality sofa-bed, then the study can have a comfortable sofa, for relaxing out-of-the-way reading as well as computer usage, and be converted into a bedroom when necessary.
Business Use
For people who work at home though, particularly full-time, there is a different set of criteria. The office needs to be a lot larger because of the need to store paperwork, records and other daily business paraphernalia. A proper telephone line is a must, with a separate number if that can be afforded, and note that the telephone point can't be too far away if it supplying broadband (ADSL) as well as voice, because long telephone extension leads and ADSL quality do not mix.
There needs to be enough power sockets to safely supply computers, printers, shredders and all the other devices that the business might require, without overloading the supply and having trailing power cables all over the place. And finally, you need to think about positioning, light and views, depending on the nature of the business.
If what you are doing is a solo occupation where creativity is important, then it might be better sited at the back, where it's quiet and it overlooks the garden or whatever views you might have. But a different business might need the office space to be within sight of the door, or at least within earshot of the doorbell, if there's going to be a lot of visitors or deliveries that can't be missed.
You might also like...