Multi-Storey Extensions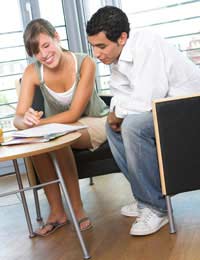 Most people immediately think of a box on the back of the house when you mention a house extension; a single storey, usually giving more space in the kitchen, or an open plan cooking-dining-family room area. But it's usually not a great deal more expensive to stretch upward and build another storey and the benefits could well outweigh the extra investment.
Economic Analysis
Although it will obviously cost more to build two-storeys rather than one, the cost shouldn't be double, for a number of reasons. The first is that a large proportion of the cost of any building project is the roof, and there will only be one roof, no matter how many storeys there are. This is particularly true if the roof is a pitched roof, which is a lot more expensive than a flat roof but worth considering if you want to gain the maximum price increase from the addition, as it looks so much better.
Another reason is that economies of scale come into play. This is because the greater the quantity of anything that you order, the lower the price per unit becomes, and this is true of building materials too. So each component, like a brick or a pile of sand, will be cheaper, making the cost per square metre cheaper overall.
Labour costs will be lower as well. It's not that you'll be charged a different rate, but with a bigger job, there'll be more to be getting on with, so there won't be so much time when craftsmen and trades are waiting for someone else to finish so that they can get in and do their bit. Then there are other costs that will be the same for a double-storey extension as for a one-storey one, such as planning permission costs, ground clearance, and putting the garden back together again.
Investment Potential
The benefit that a second storey can bring is usually greater than that of a simple downstairs extension. In pure financial terms, adding a bedroom, particularly if you add an
en suite
bathroom at the same time to make an impressive master suite, can take your house into a new price league. This is because of the odd way houses are valued in the UK; there's so much emphasis on the number of bedrooms rather than the total area of floor space.
Be careful not to go too far for the surrounding area though, as each area, even street, has a ceiling price that's very difficult to rise above. Even if you make a three-bed into a five, you may not get your money back if the people in the market for a five bedroomed house simply aren't going to buy in that street.
Inside Job
Internal arrangements are harder with a two-storey extension though. If you are just doing something downstairs, you can usual enlarge a window or take down a section of wall to make your doorway into the new space, but with upstairs levels you need to give this more thought.
Try to avoid dark corridors from the landing to the new part of the home as this will put buyers off. If you need to take space from a bedroom to give access, try not to take it from a bedroom that's already small, as buyers will dismiss a tiny bedroom as just not being a bedroom. It's probably better, if you're stuck, to take the space from a bathroom and make it into a shower room, then put a larger family bathroom in the new area.
Take the Plunge
With the focus on improving houses for profit that has come about in recent years, largely pushed by television programmes, it's far less unusual to see two-storey extensions these days. If you are thinking about extending, it might be very worthwhile considering going the whole hog.
You might also like...
Hi i recently completed a self contained detached Annex at therear of the main House..approx 45 m2.. i am now thinking of applying for a seperate dwelling as it has its own access etc. i would be grateful for any advice this...
MICKY
- 28-Apr-18 @ 7:11 PM