Which Flooring for My Extension?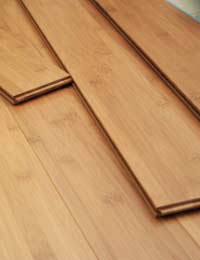 The choice of flooring for an extension is just as wide as that for any other part of the house. If you're extension is literally an extension, giving you more space for an ordinary room like a dining room or a lounge, then you can choose whatever you want.
But often an extension is used to create a room that helps to blur the distinction between the garden and the house. This concept has become increasingly popular with the influence of house and garden design programmes on television. If you are building an extension that will be used in this way then you have to restrict yourself to flooring that can cope with the odd bit of damp and dirt.
Tiles and Wooden Floors
It's for this reason that tiles, vinyl and laminate are a popular choice for a conservatory, garden room, sun room or other extensions of this sort. They are resilient and can be wiped clean of the mud and water that might be walked into the extension.
Wood or other laminate floors need to be chosen with care though. Some will warp and crack if water gets into the cracks between the planks or laminate strips. Ceramic or stone tiles are a good choice as they will shrug off much of it and as long as they are put down and grouted properly they will last for years. Flooring recommended for a bathroom or kitchen would be a safer bet.
Introducing Warmth
The snag with many of these flooring choices, ceramic and stone tiles in particular, is that these flooring choices often feel cold to the touch, certainly when compared with a lush carpet. There are a number of ways of getting around this.
The first is simply to lay down rugs in areas away from the exterior doors. Doormats both inside and outside the door, for people to wipe their feet on, will also help. Keep the rugs away from that area so that there's less chance of dirt being walked onto them.
If you can afford it, and building an extension is a great opportunity to do this, you can install underfloor heating. The advantages are that you don't have to have radiators on the walls and the heat is spread very evenly at a lower temperature. This means fewer hotspots and draughts from convection. And, as an added bonus, the flooring, whatever it is, will feel lovely and warm to the touch.
Split Personality Flooring
Another trick is to have two types of flooring in the extension, if it is large enough to carry it off. You can carpet the part nearer the rest of the house then put down a harder wearing material close to the door. From a design point of view this probably looks better in a room that's not a square or a rectangle.
If the extension is a less regular shape it might be easier to accept the division if it flows an alcove or dogleg in the wall. If the room is very regular in shape, consider making the dividing line between the two materials a curved line or run it at an angle. Use a fairly broad edge profile to hold the carpet down at the dividing line, making the division an obvious part of the design rather than trying to hide it.
Carpet is a Possibility
Quite a few ideas there, hopefully one that will work out for your extension among them. Of course, there's nothing to stop you putting carpet down through the whole room. If you do, make sure there's a sturdy doormat on the inside, buy hardwearing carpet and resign yourself to cleaning it fairly often.
You might also like...