Types of Roof for Your Extension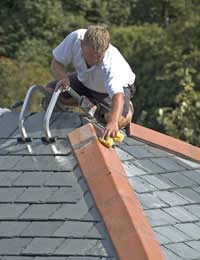 Roofs form a large proportion of the cost of an extension, particularly if it is a pitched roof, which is why a lot of people go for the cheaper option of a flat roof. But flat roofs don't last as long and are prone to developing leaks that are hard to fix, as water 'pools' on the surface. They also don't tend to blend in with the rest of the house particularly well, unless the property has flat roofs throughout.
Translucent Flat Roofs
A flat roof can be fitted very quickly though, because as soon as the supporting timbers are in place, the roofing material can be attached. If a transparent or translucent roof is required, glass could be laid, with supporting frames, but corrugated plastic or flat multiwalled polycarbonate is more likely.
The multiwalled products are layers of clear polycarbonate sheet separated by longitudinal ribs of the same material. This versatile material can be cut to size onsite and the number of layers goes from two to seven, with different finishes that affect the heat and sound insulating properties of the roof.
Opaque Materials
If the roof doesn't need to let light in, then corrugated sheet metal, plastic or fibreglass is cheap and cheerful and can be found in a wide variety of colours. The plastic versions do degrade over time though, and you need to be careful to drill holes for the fixings because punching them through is likely to crack the sheet.
A more long-lasting covering is felt waterproofed with bitumen. This is more expensive as it cannot be laid over the roof timber, so a supporting layer of sheet timber such as plywood of MDF needs to be laid down first. There are newer products on the market that look similar to felt but claim better performance, longer life and resistance to leaks.
Pitched Roofs
From a design point of view a pitched roof is almost always going to look better, and offer a better return on your investment. The amount of timber that goes into it, along with the more expensive and slower to lay tiles account for the extra time and therefore cost. But apart from better looks outside, a pitched roof can give extra loft space or be used to give a light and airy feel, if the room below is opened up into the eaves, something that can't be done with a flat roof.
It's important to match the roof tiles with the existing ones as well, whether they are slate, clay or concrete. If an exact match is impossible, then it's probably better to go for something distinctly different than something that looks close but doesn't match. Having a different but complementary style will make it look as though it was meant to be that way in the first place. For example, extensions to thatched cottages are often roofed in slate.
Conservatory Influenced
If your extension is a conservatory then it is likely to have a glass (or clear plastic) roof, and choosing that will be part of the conservatory project. But that style of roof can also be fitted to a brick-built extension, or you can fit a smaller conservatory-style 'lantern' in the middle of a normal roof, to give extra light and character.
You might also like...
I have a brick wall in front of my home. would like to put a skylight roof on it, it has front and side wall of brick, I have pictures I can send you, tried to attach them to this form but picture wound stay
Skip
- 15-Jul-19 @ 6:33 PM
I have block wall in front of the house, want to put a roof on it so we can use it and not get wet when it rains. looking for some type of roof that we can see through in some type of poly or something that will hold up to our weather. it will have to be attached to the wall of the house and the other side can set on the top of the outside wall.
skip
- 15-Jul-19 @ 6:24 PM
Hi we have a brick extension across the back of the house with a flat roof that needs attention. Would really appreciate a rough estimate with different options. I appreciate this is difficult to do but I have no idea what prices may be Thank you
Dais
- 9-Apr-16 @ 3:28 PM
Hi, We have an existing brick extension 5.13m x 3.52m which currently has a plastic roof. (Built before we bought) We wondered if its possible to put a tiled pitched roof or sloped tiled roof with sky lights and a rough price? ( I apprciate probably hard to quote without seeing it) Just a very rough price would be great. Thanks
Ozzyb
- 23-Mar-16 @ 3:46 PM
Hi - I currently have asbestos cement sheets currently covering the back extension of my house. The size is roughly 2.5m x 5m. I wish to replace them as I am selling the house. Providing I use enough insulation, could I replace them with plastic tile effect sheets (similar to B5 profile?) or is this too flimsy. Any help/advice would be greatly appreciated.
bargeee
- 29-Mar-15 @ 4:48 PM