Exterior Light and Power for an Extension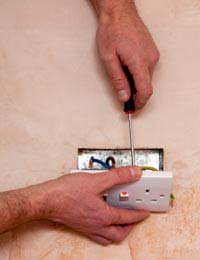 If you're doing an extension then you're very likely to have thought long and hard about the power and lighting requirements for it. But have you spent any time thinking about exterior light and power?
Exterior light and power need consideration too
As most extensions in the UK are to the rear or side of a house there's an opportunity to get some lights outside. They can help you get more use out of the garden in the evenings, improve security, and even just help you get to and from the house without tripping over a bicycle or other stuff that's been left lying around.
Getting power out into the garden is even more useful as it puts an end to pushing electrical extension cables through windows or doors, into kitchens, dining rooms or garages to plug a lawnmower or strimmer into a 13amp supply. And then you have to remember to put an RCD in place so that you don't kill yourself if there's a problem with the equipment or cable.
So with the number of electrical gadgets for the garden increasing daily and the interior design TV programmes pushing us to 'break down the barrier between the house and garden', there's real value in looking at exterior light and power if you're building an extension. Apart from anything else you're already committed to the cost and mess of building an extension so it makes sense to get any extras done at the same time, right?
Getting Building Control right
As you'll already know from reading this website it's very difficult to do much more than change a light bulb without involving a qualified electrician these days. Changes to the Building Control Regulations mean that most work beyond swapping a power socket or light fitting for something similar is now what's known as 'notifiable'.
This means that the Local Authority Building Control team or department need to inspect and sign off the work as having being done correctly. The benefit of using a qualified electrician is that they are able to certify their own work. You can do your own work but then you have to pay the Local Authority Building Control to come in and inspect and certify the work, so you might as well get an electrician to do it.
Do some of it yourself
Having said that, if you know what you are doing you can do some of the donkey work yourself, like choosing and buying the lights and power sockets. You can even drill cable access holes from the inside to the outside and there's nothing to stop you running the cables as well. The only thing you aren't allowed to do is connect everything up and use it, until it's been signed off.
Doing that work yourself does make sense, as there's little point paying a qualified electrician's hourly rate to drill holes and run cables. BUT - if you are thinking of doing some of the work to cut costs, then it is absolutely crucial to discuss this with the electrician you are going to be using. You must make sure they are aware of it and that they are happy with it.
An electrician is responsible for the whole job, not just the connecting up, so many of them won't connect up work if they haven't been involved throughout the job. So check that they will work this way, then get them in to discuss exactly what you'll be doing and where you'll be running cables and drilling holes.
Exterior electrics are 'special'
If we were talking about work inside the house we'd also be telling you that you can fit your chosen lights and sockets to the walls yourself too. But this is NOT necessarily the case with exterior light and power – any new work in a garden is counted as a 'special location' and those are notifiable.
You will be able to get away with fitting an exterior light as long as there's no exposed electrical connection on the outside. So as long as you buy light fitments that have their connections inside the unit, you should be ok. Even then the work will still be notifiable if the addition means a new circuit, or extending another special location circuit, such as the one in a kitchen.
Mounting power sockets on the outside is definitely out if you aren't qualified. If a socket is external it counts as an outdoor connector and that's notifiable. It should go without saying that any exterior power sockets have to be properly water and weather proofed and rated for external use.
It's worth the trouble
Ok, so the current regulations prevent you from doing much of the work yourself. But if you are building an extension to the rear or side of your house and DON'T put in exterior light and power sockets you'll probably regret it.
So swallow the extra cost and just enjoy having an easier time in your garden and looking after it.
You might also like...