Shades for Conservatory Style Roofs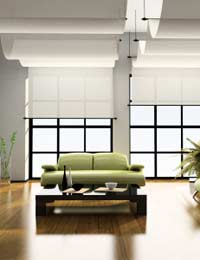 Conservatory blinds aren't fitted to all glass roofs, many people leave them uncovered, for the first year at least, to see if they are absolutely necessary. Whether the roof is on a conservatory or it has been added on top of a solid walled extension, it appears self-defeating to cover it up. But conservatory blinds offer a number of advantages.
Inevitably people discover that at certain times of the year, when the sun makes its all too rare appearances in the UK, there is uncomfortable glare, and that's when people reach for the blind catalogues. As well as cutting out or softening the direct sunlight which causes discomfort they can cool a room in the summer and keep it warmer in winter. Blinds also minimise the fading that direct sunlight can cause on furniture, fabrics and flooring.
Quick and Easy or Made to Measure
If money is tight then the cheapest option is to drape a lightweight fabric such as muslin across the roof for a tented effect. The danger here is that the hooks or other fittings that are used to hold the fabric up will damage the frame of the conservatory roof. Also an arrangement like this is not easily adjustable, so once it's up it tends to stay up and can't be opened or closed.
That brings us to the commercial options which are designed to be opened and closed easily. There are two main options, pleated blinds and roller blinds, available from many different companies in a wide range of colours. There are other options, but both of these are designed to be raised and lowered by means of cords at the sides. These cords can be brought down to a usable height using pulleys quite easily.
Roman blinds are, of course, similar, but when raised they leave a lot more fabric at the top, so they don't allow as much light through. They also do not cope well with the tapering glass in the corner panels of a conservatory style roof.
Roller and Pleated Blinds
Roller blinds can be made from many different fabrics so you can choose your own, it doesn't necessarily have to be a fabric designed for a conservatory style roof. But those that are generally have a reflective liner that increases the thermal efficiency of the blind, keeping up to 85% of the heat of the sun out in summer and preventing a lot of it escaping in the winter too.
Pleated blinds can also be supplied in a fabric with a highly reflective layer as well as in many different colours. They can also be made from fabrics or materials in differing weights so they let more or less sunshine through, depending on your requirements.
A specialist conservatory style roof covering that looks particularly good on classic designs is Pinoleum, a French design constructed from hardwood slats woven together. Although you won't get the high reflective qualities of a modern fabric you will get a classic look that harks bark to Victorian days when this product was first released.
Conservatory Style Electric Blinds
Finally one thing you might want to consider is electric system to lift and lower your blinds. Although this is undeniably a luxury, there is a serious benefit too. Manual cords can get jammed in the pulleys and jumbled up if people are not patient and careful.
Having electric motors to do the job minimises the amount of cord hanging down from the conservatory style roof and removes the human element from the tugging and pulling. This generally makes the cords less prone to problems.
You might also like...
Thank you for this article, very useful and informational.
Mamie Beardsley
- 9-May-17 @ 10:35 AM