A Home Media Centre in an Extension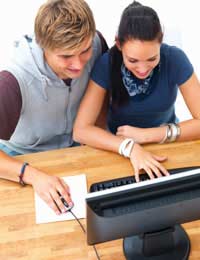 Creating the space for a home media centre is a popular reason for building an extension these days. As large TV screens or projectors become more popular and surround sound systems bring movie style ambience more and more of us are creating dedicated rooms to put all these devices in.
PC, Film and TV Becoming One
Interest is picking up as PCs merge with television and film as well. Five years ago it was rare to have a PC acting as the main store for your music but now it's commonplace as we all have MP3 players and need to store the music when it's not on the player. These PCs are being called Home Media or Home Theatre PCs, as they can now show films too, either from their own hard disk, from a DVD or BluRay disc, or streamed over the internet.
If you have a personal video recorder (PVR) like a Sky+ or Freeview+ box, that is effectively a PC as well, with a TV display interface and some other proprietary bits added in. Or you can get an operating system and software that makes a PC work as a PVR device instead. Increasingly photos are getting onto the PC too, as digital cameras fill up and we look for somewhere to put the pictures.
Where to Put the Gadgets?
All this creates demand for the PC, screen and devices to be part of the home rather than tucked away in a spare bedroom or study, and the larger the screen the more people can gather round it. But many people don't want their lounge to become a slave to a TV screen, in which case they need another room to go to when they want to watch a film, catch up on missed TV programmes over the internet, or watch the big match.
This is where building an extension as a home media centre comes in. Now the truth is that any room in an extension can be turned into a home media centre, all you need is power, heating and lighting. But if you know in advance that you are going to use it for this purpose then you can make sure all the equipment goes in neatly and works straight away. You also won't have hundreds of metres of different types of cable snaking all over the room.
Few Structural Issues
There's no need for the structure to be altered in any way, even the lightest of walls should take a large flat screen TV with the right bracket as long as it's screwed into the blockwork or studs. If you're using a projector, make sure there's a larger clear wall space and paint it with projector paint. It's easy and looks neater than having a projector screen.
Tot up the number of power sockets you need and then put in twice that number. While you're doing the first fix, put in a large conduit with some sort of access method, between the TV screen or projector and the place where all the devices are going to go. Then when you get new devices you can run cables up nice and easily.
Run Cables While You Can
There are some other things you can do at the first fix stage. One is to put in as much sound proofing material as you can to stop the sound booming all over the house and bothering the neighbours too. Another is to run all the cables you are going to need.
Consider running Cat V network cable from your broadband access point to the home media centre room because wireless sometimes drops off, not great for watching streaming programmes. Running cables in from your satellite or digital aerial would be a good idea too.
Finishing Touches for Your Media Extension
Once this is all done you're on to the second fix. There's nothing particular that you'll need that's specific to putting a home media centre in, as opposed to any other general purpose extension. If you're a fan of watching films in the dark you might want to put in nice think curtains or blinds to keep the room dark.
Apart from that you might want to build or customise some cupboards to hide all the devices. If you do that, you can use glass, even darkened glass, in the cupboard doors and the infra-red remote beams will still work. Then you get a sleek, tidy look to your home media centre and it all still works!
You might also like...