Installing Electrics In an Extension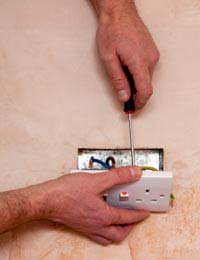 No matter what size and type your extension is going to be, you are likely to want an electrical supply in there, even if it's just for a light. And if you're going the whole hog, with a two or even three story extension with extra bedrooms, bathrooms and living rooms, then a serious upgrade to the house's wiring will be required.
Get the Professionals In
The options for do-it-yourself electrics are shrinking all the time. Apart from the fact that it is madness to consider doing any electrical work unless you
really
know what you are doing, recent changes to building control regulations mean that work by an unqualified electrician is unlikely to be certified at the end of the job. This means that all but the simplest of electrical jobs now need to be done by a competent and qualified professional electrician.
If you are doing a lot of the build yourself then you could lay the wiring and fix mounting boxes to the walls while you are doing the rest of the first fix, but this will only save time if you and the electrician have agreed on a very detailed wiring plan that you both fully understand. If not, the money saved will be wasted while you and the electrician are re-running cables.
Simple Setups
If your extension is a simple lean-to, really just a large porch at the front or back of the house, that isn't going to be used as living space, then you might be able to get round this by using solar-powered lights. These use a simple photoelectric panel to recharge batteries that then power the light when it's needed, and can be coupled to motion detectors so that they come on as you enter or leave, thereby dispensing with the need for wiring or switches. You need to be aware that these lights currently really only give off a glow, rather than the sort of light that you get from mains electrical lighting, although they are improving all the time.
Plan Your Layout
Otherwise you are likely to be looking at new lighting circuits and new mains power loops as well. Go through the extension in your mind and imagine how you are going to use it, and where you might need power and light. If any of the rooms are going to be used as bathrooms, kitchens or utility rooms then you need to assess the need for special circuits to boilers, cookers and the like. Consider whether you will want central lighting or wall lamps, or perhaps low-voltage lighting.
Another option is a circuit for standard and table lamps that can be turned on and off from a single wall switch, an idea popular in America for many years that's beginning to appear more frequently in the United Kingdom too. Think about the outside too. If you're hiring an electrician to do internal wiring, it might be worthwhile getting a couple of weatherproof sockets put on an outside wall. This would make it easier to plug garden tools and lights in, particularly if your extension is a conservatory or garden room, so the wiring would be going close to the outside wall anyway.
Get all of this clear in your mind, and preferably written down too, before you start getting electricians in for quotes. Although they may well have new ideas to bring to the party, if you have your requirements sorted out beforehand they will appreciate the time saved.
Double Up
One rule of thumb that's well worth remembering is that once you've decided on the number of sockets that you'll need in a given room, then double it. With the ever increasing number of electrical devices in use today it's going to be a real bind if you spend all that money on an electrician then end up having to put extension leads all over the place the next time you move a room around or get a new gadget for Christmas.
You might also like...