Considering Garden Design Following a Home Extension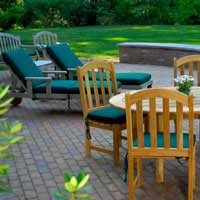 There's sure to be some disruption to the garden when any house extension is built but once the building work is finished and all the trades have all gone home, you can start putting it right.
How Much Damage?
Even if the land that was built on was concreted over before the build, machinery will probably have come across the garden, scaffolding may have been erected, and lots of builders and craftsmen's boots, wheelbarrows and material loads may have been carried across the garden. At best you might have to re-turf some part of the garden, at worst you're looking at a sea of mud that needs a complete makeover.
But that's no bad thing, particularly if you are extending the house in order to sell it on and make a profit. If that's the case you will already know that gardens are important in realising a good sale and will have budgeted for some landscape gardening, even if it's only re-turfing and putting new fencing up. But even that could set you back the best part of a thousand pounds, and it's an area that can easily swallow up a lot more.
Gardening Trends
Of course, the amount you spend depends on the size and shape of your garden and whether it's all on one level. Gardening trends these days tend toward making the garden a part of the house, or trying to blur the boundary between house and garden, and creating distinctly separate areas of the garden, almost like 'rooms'.
Laying down a durable surface of some sort in the area where the garden meets the house can help achieve the first effect. The use of decking has soared in the last ten to fifteen years and this makes an area where garden furniture can be set out without it damaging the lawn by sinking holes into it. It can also be a place to site a barbecue. An area like this doesn't have to be created with decking; it can be a stone slab patio or concrete. Gravel has also become popular recently in creating low-maintenance gardens. Bare concrete is very harsh and unattractive and probably best avoided except for drives or paths.
Creating Garden Rooms
The second effect, that of creating separate areas akin to rooms, can be achieved with hard landscaping or planting. If you're selling on, hard landscaping is the fastest, so look at fences and walls or screens and trellises to separate areas. Look at the shape of the garden and try and work with it, continuing lines on or echoing them in different sections of the garden.
If you're staying in the home you can afford to draw lines with plants and wait for them to grow and mature to achieve the effect you are after. Hedges can take a couple of years to become a coherent solid mass, depending on how mature the plants are when you put them in. Strategically placed decorative grasses can be very effective at drawing the eye through the garden. They can grow to a good size, and have the advantage that they can be split into two or three plants every couple of years.
Try a Helping Hand
Gardening is a massive area and you could consider taking on a landscape gardener or garden designer to help you with the work. They will come up with ideas that may not have occurred to you and will also help carry out some of the work, which is a real boon if you're not that knowledgeable or don't have the time to lay out a garden from scratch.
Finally don't forget the front garden, if you have one, particularly if wheelbarrows and boots have been tramping over it. Kerb appeal is very important, even more so if you are selling the property on.
You might also like...