Plumbing and Heating Considerations for a Home Extension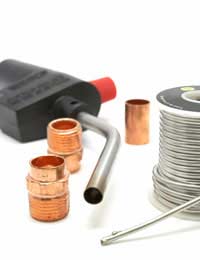 As many extensions are build in order to create large, airy, open-plan kitchens-cum-dining areas where people can cook and socialise or keep an eye on children as they play, plumbing and heating can play an important role. And if you're pushing the boat out and doing a two-storey extension, then you may well be putting an en suite bathroom into a bedroom so plumbing will need careful attention there too.
Expanding Your Heating System
With central heating, unless you're unlucky, you may find that you can simply add radiators on to an existing system without changing the boiler. If not, then it's worth investing in a decent modern boiler that will be more energy efficient and has a little extra capacity, if there are still options to extend the property further in the future.
An electrical heating system with storage radiators is easy to expand as the new radiators simply need to be plugged into an appropriate electrical point. They are difficult to control though, as they heat up during the night then disperse the stored heat during the day, usually meaning that they've lost most of their heat by the evening, which is when most people need it. For a smaller extension though, you could consider electric panel or convectors heaters, which might be cheaper overall, especially if it's going to be expensive to extend a water-based radiator system to reach that area.
Underfloor Heating
Underfloor heating is gaining in popularity and is available in both electrical and fluid-filled format that's fed by a boiler. The fluid systems are basically like a very large radiator laid down under the floor, although in practice it's a flexible coiled tube rather than solid metal. The advantages are that there is more even coverage with fewer cool spots, and the temperature of the coil is a lot lower than that required for traditional radiators, saving energy and making it the perfect partner for solar water panels.
Electric underfloor heating is developing fast too. A few years ago it was really only available for small rooms such as bathrooms, but now thin wire mats are available to cover whole rooms. The manufacturers claim even better background heat coverage than coils as the mat is more like a mesh that does not have to be coiled back and forth, as is the case with the coils of liquid underfloor heating pipes. The other advantages are that it heats up faster and is easier to install, as it can plug into the existing power ring circuit and is much thinner, meaning less building work.
Plumbing Systems For Kitchens and Bathrooms
With plumbing for baths, showers, sinks and toilets, there are really three systems in place. The first brings hot and cold water to the areas where they are required and the second takes that water away again. The pipes used to be lead, then copper, but increasingly nowadays are plastic, which is more flexible. The pipes bringing the water in are of a smaller diameter than the waste pipes that come away from the sinks, baths and machines such as dishwashers and washing machines.
The third system is for the effluent and is a much larger pipe coming from the toilets. Often the waste from sinks and dishwashers will be fed into the toilet waste system, known as soil pipes. But keeping them separate enables you to reuse the water from machines, sinks and baths. This is known today as 'grey' water, as it's not clean but it doesn't usually carry a big health risk, and if you pipe it into a water tank outside, it can be used for watering the garden, as long as you stick to biodegradable washing products, when there's a hosepipe ban.
Where Should Plumbing Go?
Plumbing changes can be tricky, and therefore expensive, so look at your existing installations and see if you can keep the kitchens, bathrooms and in particular toilets close to the current pipework, that will make it all easier to integrate.
For areas where that's not possible, there are microbore waste systems, made from very small diameter plastic pipework with macerators to cut the waste up into smaller pieces, which can then pass through the small-bore pipes. Coupled with a pump to overcome gravity this enables a toilet to be placed virtually anywhere, regardless of how far it has to go to join the existing pipework.
You might also like...