Curtains and Blinds in Your Extended Home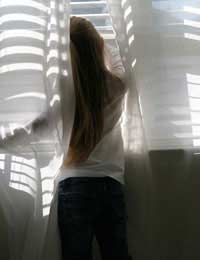 Whether to fit curtains or blinds, or a combination of both, and then which styles, patterns and colours, can take a long time to sort out, particularly if everyone in the family has an opinion. The best way forward is to try and sort out what you need, then look at what is available to fit those needs.
Important Factors to Consider
There are four main reasons for fitting curtains or blinds:
Privacy – to prevent people seeing in.
Heat insulation – even with double-glazing a major proportion of heat loss is via windows.
Decoration – the choice of window covering can dramatically change the atmosphere of a room
Shade – protecting eyes and furniture from the glare of the sun
Considering the Factors in Context
The kind of room or rooms that you have added on with your extension will determine whether to use blinds or curtains, to a great extent. Blinds are popular in kitchens as they are easier to clean, often without taking them down, and there's less of a fire risk as there's no loose material flapping around. But if your kitchen is not overlooked you might consider not having window dressing at all, unless it looks too odd without it.
Many people who fit conservatories don't fit blinds to the roof section – until the first summer, when they discover how hot it can get! And for that luxury touch, electrically operated blinds are much easier to raise or lower than those operated by pulleys and winches, but of course cost a lot more to buy and install.
But, depending on the angle of the sun as it traverses the sky in the height of summer, you may be able to get away with no curtains or blinds on the windows, which can give a clean, uncluttered look. On the other hand, the heat insulating properties of heavy curtains might be attractive if you intend using the conservatory all year round.
Colour schemes are obviously important and it's useful to choose something that will blend in with the existing part of the house, which will help the extension integrate with the home and look less like an add-on. So take note of the colours and patterns used in the rest of the house and the other touches that define the style, and look for ways of repeating them or echoing them in the new curtains or blinds to bring the whole thing together.
Making Your Choice
Having considered all of these factors in the context of your new rooms, if you decide blinds aren't for you, then you need to choose the material, colour and pattern to have for your curtains. Then of course there's the type of curtain track, whether to draw them by hand or have a pulley system, possibly even motorised, and whether to have pelmets, tie-backs or other accessories.
If you choose blinds instead of curtains though, you're still not out of the woods. There is a bewildering variety of blinds available, venetian (made of plastic, wood, metal), roman, slatted (vertical and horizontal), roller, pleated (with a bewildering range of pleat patterns) and bamboo to name just a few. And if your extension has skylights or Velux windows, then there are custom blinds available for those too.
Try a Shop?
With both blinds or curtains it's certainly possible to order over the internet or from various catalogues, But there's no substitute for seeing the colours with your own eyes, and feeling the fabrics, testing the opening and closing mechanisms with your own hands. So perhaps this is one purchase where the traditional shop might be the best option.
You might also like...