An Overview of Insulation Standards and Options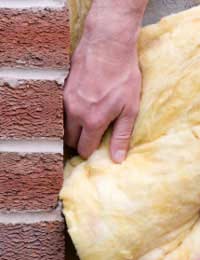 Whatever the type of extension you are building it is important to pay attention to insulation. Not only will it keep the extension warm and comfortable, It will save money on heating bills and make the house more saleable when the time comes.
In the home much of heat loss take place through the walls and lofts but the glazing and flooring area should also be checked. For residential properties the Home Information Pack (HIP) became compulsory on 10th September 2007 in England and Wales so it is now a requirement to have the energy performance of a building and its environment impact assessed before it can be sold. A HIP should form a good guide as to the efficiency of a building.
Insulating Walls
The outside walls of buildings built after 1920 are likely to consist of two layers with a small gap between and can account for 30% of a building's heat loss. These types of walls are called cavity walls and insulating the gap between the walls could save over a hundred pounds a year, meaning that the cost of installation should be paid off on savings after two years. Remember that using less energy not only saves money but also means that less CO2 is emitted.
Homes built before 1920 are likely to be solid walls, which can account for 45% of the heat loss in a building. There are two ways to insulate solid walls, externally and internally. Solid walls are more expensive than cavity walls to insulate but the financial, energy and CO2 emission savings are greater.
Of course the walls of your extension can be built to modern insulating standards. The only time when this is not the case is if the planners insist that you keep the materials and methods the same as the original fabric of the building, something that is less and less likely these days.
Insulating Roofs and Lofts
Typically heat escapes up through the loft of a building and out through the roof. Insulating a loft can be as simple as laying down insulation blankets between the rafters. Another method is for an installer to use equipment that blows loose fire-retardant material into the loft, this is particularly good for hard to reach places.
Many extensions will have flat roofs and the cavity between the ceiling should be filled with solid or fibre roll (blanket) insulation. The advantage of solid insulation is that it can be cut to fit and pushed up into place before the ceiling is put in. Rolls are far trickier to handle when holding them above your head.
Double-Glazing
All windows should be double-glazed to create a barrier that reduces heat loss, noise and condensation. Either the window should be double-glazed as a whole or, if cost is an issue, it can be done more cheaply by fitting secondary glazing. Double-glazing is rated A-G by the British Fenestrations Ratings Bureau and the highest rated are likely to save well over £100 a year and close to a ton of CO2 emissions.
Insulating Flooring, Pipes and Tanks
A tube of sealant can be used to quickly prevent the gaps around skirting boards and floors from letting drafts in. For a more complete job it is relatively cheap to insulate underneath the ground floor's floorboards with mineral wool. A British Standard Jacket can be fitted to a water tank or cylinder to save 75% of heat loss and the energy savings will be considerably improved by adding insulation around the pipes.
Types of Insulation
Blanket insulation consisting of glass fibre, foil-backed felt, rock fibre or mineral fibre blanket is the most typical form of insulation, typically 270mm thick. Granular, loose fill insulation can be made from cork granules, exfoliated vermiculite, mineral wool or cellulose fibre. It is not for draughty loft space but useful for areas where blankets are difficult to fit.
Sheet insulation insulates the sloping surfaces of the roof instead of the floor and is fixed between the rafters. With the increased interest in light, open spaces, this type of insulation will allow you to make the most of your new extension if you have a pitched roof.
Keep it Warm
Its well worth investing in top-notch insulation at the build stage as it's difficult to put it in after the extension has been built. With the changing attitudes to saving energy from governments and consumers, and the HIP making it harder to hide poorly insulated homes, it's an investment that will pay back very quickly.
You might also like...