Top Five Materials for Home Extensions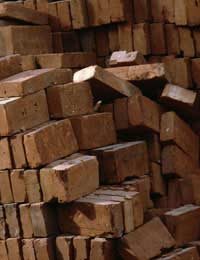 Extensions are getting more and more popular as the housing market fails to show any significant signs of recovery. If we can't get the right price for our current houses then we're staying put and building on to give us the space we need and add value ready for the time when the market finally picks up.
So what are the top five extension materials, and how to you make the judgement? We'll take you out of your misery by giving you the list pretty early on but first explain our criteria.
How we judged the contenders
Firstly, we're talking about the facing material, not necessarily the structural material that supports the extension. If we chose that then there's only be one winner – building blocks. They're light, cheap and thermodynamically efficient, all the things you need for a modern extension.
No, we've decided to focus on the decorative side of things, although with some materials they are inseparable. We've also decided to rank them in terms of desirability, and, not surprisingly, the list also works pretty much as an indicator of how expensive they are too.
Without further ado – here's our list, then we'll discuss each one in a bit more detail, with links to relevant articles on this site where we have them.
1. Glass – is it greener on the other side?
The darling of Grand Designs and most of the other home décor shows on TV at the moment,
glass
can be unbelievably dramatic, particularly if it is used structurally as well as decoratively. Glass also helps with one of the current contemporary fashions, blurring the division between house and garden
Used structurally though glass can be ruinously expensive and it's not such a good insulating material either. Modern glass laminates do have remarkably good thermo-retentive properties but can't beat solid, thick materials with insulating gaps. If you can't afford all that wall to wall glass, try and pick up a bit of the drama with large windows in the right places or perhaps glass bricks, which can lend a contemporary or art nouveau feel to a property.
2. Stone - no moss gathered here
Stone is more expensive but is utterly essential in some areas of the country. Often you won't be allowed to build extensions with anything else in many Areas of Outstanding Natural Beauty (AONB), national parks or conservation areas.
Assuming a typical modern extension construction the inner of the two walls is likely to be building blocks, for the reasons stated above. Then there will be a gap, which these days should be filled with insulating material rather than being a void, before the outer dress layer. It's likely that stone is only being used for its looks, and in many situations there's nothing else that will do.
3. Brick – a building material you can rely on
Cheaper than stone,
brick
is versatile and easily available. Like stone you are likely to be using brick to blend in with existing buildings. Again with a modern construction you can use blocks for the inner wall, saving your money for the more expensive bricks on the outer layer only.
As well as being cheaper, brick is lighter than stone and has slightly better insulating properties than stone. So if you aren't being forced by the planning authorities to use stone and cost is an issue, you might be better off with brick.
4. Wood – n't it be nice
For centuries, even millennia, the only easily available building material in most of the United Kingdom was wood, and it's only relatively recently that it has given way to stone and then brick. As with glass it is television that's largely responsible for the resurgence in building in wood, with green oak frames becoming increasingly popular with well-heeled house and extension builders.
Wood is very useful as a cladding material, purely decorative on a double-block wall. Planners are often now insisting that extensions have to be distinctively different to an original property, so that it's obvious what is original and what isn't. In these cases, a wood exterior is a graceful way of achieving this without the new part being a complete eyesore.
5. Block - the cheapest way, but disguise is a must
And finally, block itself makes an appearance. If cost is of paramount importance this is the only way to go when building modern
dual-layer walls
, but it doesn't have to be a visual disaster. A layer of rendering and then a coat of paint is a cheap way of disguising the block, or you could even consider wood cladding.
Take your pick
But don't take our word for it. If you're planning an extension, take a look around the site and get a solid plan in your head and most importantly, do it your way.
You might also like...