Roof Lights for Conservatories or Garden Rooms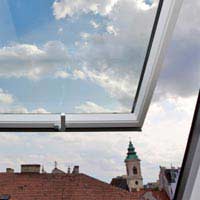 One of the less popular options for a conservatory or garden room roof is to have a rooflight or lantern, but the effect can be quite dramatic. A raised lantern can look very classy or you can opt for a flat rooflight or skylight which allows light in through a solid roof but is unobtrusive.
Skylight and Rooflight
Let's look at a few terms and definitions first, although they are not completely hard and fast. Firstly we're using the term 'garden room' in its original sense, similar to a conservatory but with solid walls and large windows, rather than completely glazed walls. This is as opposed to a garden room in the sense that has become popular over the last ten years or so, a separate room in a garden acting as a studio, office or similar.
Then there are the various terms used to describe windows set into a solid roof. Skylight and rooflight are generally interchangeable these days and can be used to describe any glazed opening in a roof, whether it is clear or obscured, opening or fixed. Skylight is the original term and rooflight came into use in the 1960s and 1970s, generally with reference to more contemporary buildings.
Roof Lantern
A roof lantern is more specific and refers to a glazed structure on top of a roof, over an opening, usually central. The structure is most often rectangular although it can also be circular, octagonal, or virtually any other shape as long as it can be made to fit. The key point is that the structure has glazed sides, and the small roof section will usually be glazed too, although sometimes it is of the same material as the rest of the roof.
Some modern roof lanterns will not have sides but simply be angle glass panels raised to an apex. These will suit more contemporary buildings while an older building might have a classic white wood raised rectangular lantern with perpendicular sides and a glazed apex roof section. It is this raised nature of the structure that distinguishes a roof lantern from a skylight or rooflight.
Velux Windows
Perhaps the most popular skylight, and the 'hoover' of the rooflight world, is the velux window. These double-glazed skylights are very popular for loft conversions and other locations where a conventional window can't be fitted. They hinge in the middle and open very wide so that both sides of the glass can be cleaned from the inside of the room.
Rooflights for Garden Rooms
Skylights or roof lanterns are quite often fitted to garden rooms to allow light in through the roof. They can be fitted with blinds so they can keep the sun out during the day. Many garden rooms are built in south facing situations where a conservatory would simply be too hot in the summer. A garden room will be cooler in the summer and easier to heat in the winter and therefore a better addition to a home if it is intended to be used all year round.
Putting a roof lantern on a conservatory is far less usual but they can be seen on up-market conservatories, particularly those that seek to imitate original Victorian and Edwardian conservatory designs. It is very rare for the roof section of the lantern to be anything other than glass, they are nearly always glazed.
Roof Lanterns for Other Rooms
Finally it's worth thinking about rooflights and lanterns in other areas of the house, not just conservatories and garden rooms. A lantern can be very dramatic above a staircase and look great in a single story extension in another area of a house, a kitchen perhaps. Take a look at a few lanterns and skylights whatever type of extension you are building.
You might also like...