Alternatives to Architects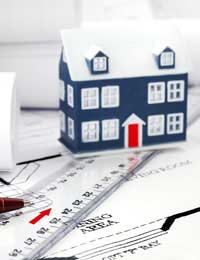 In our article about choosing an architect we talk about the benefits that they can bring to your building project, however, it's not essential to use them and there are a number of alternatives. Architects are usually used to bring ideas to the table, produce drawings and plans for local authorities and the builders and contractors to work to, and in some cases to advise and project manage as the build progresses. If you can do those jobs yourself, or find others to do them, then an architect may not be necessary after all.
Going Without
The most obvious, of course, is to not use an architect at all and rely on a builder to carry out your own ideas. This may be perfectly acceptable as long as there are no tricky structural or design problems. Conservatory firms, for instance, rarely use architects for standard jobs. If you have limited space at the rear of your house and so can only really fit a rectangular box extension of a certain size, then it's perhaps overkill to employ an architect.
There are extension projects, other than conservatories, that can be done by 'turn-key' companies that don't use architects either, loft conversions being a case in point. Although any decent builder should be able to do a loft conversion, an established company that has specialised in doing them over a significant period will have a wealth of experience. As it's the only thing they do, they will have the ideas and skills to be able to deal with most of the complications your loft could present, and will have a set of designs that can be used to fit.
Planning Solutions
The need for plans to submit to local planning authorities for building control purposes concerns many people, and often builders won't come round to discuss projects and quote unless you have plans, presumably because they want to know that you're serious. But for a simple extension, as long as you understand the basics of technical drawing and the different views, plans, elevations and the like, amateur drawings on graph paper should be enough to satisfy building control and builders.
Alternatives in the Building Profession
If the edge of your house has awkward corners, there are different levels of ground to deal with, or other issues that make a straightforward box-like extension impossible, then a structural engineer might be a good person to talk to. Normally they work on larger buildings or civil engineering project such as bridge construction and tunnels, but you may be able to find one locally who would be happy to do a domestic job as a break, particularly if they are often travelling to various large construction sites all around the country, or even the world.
If you feel you need the skills of an architect, particularly for the plans at the beginning, then you may be able to save money by employing an architectural technician. They provide solutions and draw them up, usually for architects or other building professionals, but there is nothing to stop them doing this directly for clients, and they may be able to deliver all that you need, particularly if you already have your own strong ideas about the overall design and structure.
Consider Carefully
This whole area needs careful thought. By not using an architect, you are saving money, but if things go wrong it will be down to you to sort them out, with no-one to call on for help. This is not a warning as such but it does need pointing out and as long as you are comfortable with that, then there's nothing to stop you going ahead.
You might also like...