Financial Contingency for Your Home Extension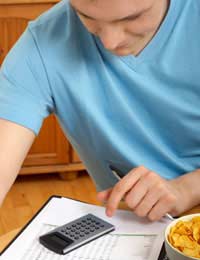 Contingency refers to resources put aside to take up the slack in a project, usually in terms of money, often time, but also other things such as supplies or manpower. In relation to construction, however, the contingency that's talked about most often is a financial fund.
Purpose of Contingency
As with any project, and construction projects are no different, there are things that cannot be known until the job is begun, so the planning can't be set in stone. When things turn up that cause a delay or further costs, the time or money that is needed can be taken from the contingency.
Ideally, you should never use the contingency, it's really an emergency fund. The worst that can happen is that the contingency runs out and you start having to pour extra money into the project, a situation known as going into overspend.
Overspend Versus Contingency
In budgeting terms, you can also go into overspend while there's money left in the contingency pot, although this is all really about how you deal with the paperwork rather than actual cash. If you are putting in a new kitchen as part of your extension project and you decide, for example, to install a kitchen that costs £7,000 instead of the £5,500 that you put in the budget, then strictly speaking that should be budgeted as an overspend rather than being taken from the contingency fund.
This is because it's a considered decision that you've made rather than something that you had no control over. An example of correct allocation to the contingency fund might be a discovery of an old cesspit under the place where the kitchen is meant to be, resulting in a higher cost to empty it and fill it in so that the foundations can be prepared. However, in a domestic building project like an extension this is probably an unnecessary distinction as the money comes out of the same pot anyway!
Contingency in Construction
Where financial contingency is important in a domestic building project is at the budgeting stage. When you have all your costs and quotes lined up and have added them up to a heart-attack-inducing final figure, it is vitally important to add a contingency figure too. Professional developers will work on a percentage of the whole project, depending on the size of the build. A large public building will have the contingency fund set at 10 to 15% and a smaller project such as building a house on land that's already been surveyed might have as little as 2.5%.
If you don't have much experience, it would be wise to add at least 10% contingency to the total. If you are borrowing to fund the extension, get the loan for this grand total, including the contingency. Then if something goes wrong, unless it's really major, you should be able to get on and finish without having to go cap in hand again for more money.
Watch That Spending
On the other hand, knowing the contingency money is there can lead to overspending. it's imperative to resist the temptation to spend the contingency on extra items that weren't in the budget, otherwise then if something goes wrong late on in the project there won't be any contingency because it will have bee used up already. So a tight rein on the purse strings is necessary throughout.
You might also like...