Finding Builders For Your Extension Build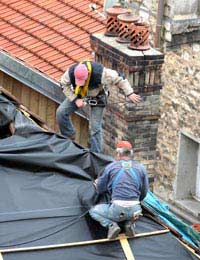 This is perhaps one of the most crucial decisions of the extension building process: which builder to use. Everyone has heard nightmare stories about builders who don't do what you want, don't deliver on time and charge more than you agreed It seems that good builders are very thin on the ground once you've weeded out all the ones that people moan about. However, it's wise to take some stories with a pinch of salt, and a bit of time spent researching should minimise your chances of being taken for a ride by a cowboy.
Get Quotes and Assess the Candidates
The main approach is to get a number of builders in to discuss the project and get quotes or estimates, then choose the one that suits you and your pocket. Remember that you, the customer, also have responsibilities when hiring someone like a builder and do your homework before getting anyone in. Prepare a description and sketches if you know exactly what needs to be done already. If you don't, then that's fine, but make it clear to the builder what you want, even if you don't know how it should be done, and see how happy he is to come up with ideas and discuss options.
You should also know how much you are going to be asking the builder to do. Will they be taking complete control of the whole job, sourcing materials, hiring other contractors and tradesmen and project managing? Or just doing the building work, and expecting you to do all of those things? Do you want them to just cover the basic building, with the finishing all done by you, or cover it all from start to finish?
Get at least three builders in and compare the quotes or estimates against each other. Make sure that you end up describing agreeing the same job with them so that the quotes are comparable. But also take note of how you felt about discussing the project with them. It might be worth going with a more expensive builder if you feet they are more in tune with what you want, more prepared to listen to you, and that you felt more comfortable working things out with them.
Personal Recommendations
In order to find your three (or more) candidates, the Yellow Pages should really be the last resort. Personal recommendations are like gold dust and a builder who has established a local business for some years will know that they get far more work from recommendations than advertising and will work to maintain a good reputation. Ask neighbours, family, friends and other people you know who have had building work done and find out what they thought of the builders they used.
But beware of second or third hand opinions and be careful to give more weight to the people who have had direct dealings with builders. Many builder-customer relationships fall down because the customer has not given a clear brief, or has changed things along the way and the builder had not been clear that it would cost extra money. Delve into the stories about problems to try and see where the fault lay.
If you cannot turn up enough personal recommendations, perhaps because you are new to the area, look at the builders advertising in the area who are members of the various trade organisations. Then check with the organisation to see if they really are members, and still have a good reputation with them, although bear in mind that paying annual subscriptions is sometimes the only thing that they have to do in order to remain members.
Use the Web Wisely
These days you can also get a lot of information form the internet. There are numerous sites where users are invited to send in their experiences with firms, sometimes locally or regionally based sites, some are national. It is still wise to view these report with an open mind, just as with local gossip, as some companies aren't adverse to deliberately slating competitors on these forums or logging on under bogus identities to inflate views of their own companies.
You might also like...