Getting Contractors For Your Extension Build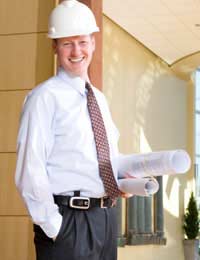 Getting reliable contractors is key to having a trouble-free building project and an extension is no exception. Assuming you have a builder in place, the trades that you are likely to need for the services are an electrician, plumber or heating engineer and gas fitter, although you are very likely to find that many plumbers are heating engineers and vice versa. Depending on the nature of your extension you may also need, to help with the actual construction, a carpenter, joiner, someone to fit windows and doors, glaziers and roofers.
Obviously there is a lot of potential overlap in that second category as well. Your builder and his mates may be capable of doing a lot of that work, and many joiners and carpenters are qualified in each other's areas too. If you are buying a roof, perhaps flat or glazed like a conservatory, then that is likely to be fitted by the company you bought it from, so that takes another job away from you. The same is often true of fitted kitchens, if your extension includes one.
Different Ways of Organising Labour
Whether or not you need to go out and get these contractors for yourself depends very much on how you are organising the project. If you are project managing yourself, and the builder you have chosen is doing just the foundation work and the erection of the basic structure, leaving you to do the rest, then it will be up to you to get the contractors on board. However, many builders work with a regular team of craftsmen and will arrange them around the building work.
This takes a load off your shoulders, but you need to be clear about the arrangement. Is the builder sub-contracting the tradesmen, or simply arranging them and they are contracting directly to you? This matters if something goes wrong, because if the tradesmen start blaming each other and they are sub-contracted to the builder, then the builder has to sort it out. If that is not the case, then it's down to you, so make the right choice for your level of experience in project management, building and managing people.
If finding and appointing the contractors is down to you, then by far the best way is by getting personal recommendations from people who have had recent building work done and were pleased with the results. Then ask the contenders for quotes and vet them in the way that's described in our article 'Finding Builders' in this section. Bear in mind that these days it's essential that electricians and gas fitters have the full qualifications required to do the work and connect services or the utilities may refuse to connect you or their work may fail building control inspections.
Consider a Project Manager
There is another arrangement, which is worth considering if your extension is very large and complicated. If this is the case then you are likely to have appointed an architect to help with the design, and produce plans for the planners to approve and for the builders and other trades to work from. The architect may well project manage the build on your behalf, or recommended a professional project manager who can take all the hassle away from you.
This will obviously be an extra cost but, watching the TV programs about building projects, it's fairly obvious that a lot of disasters could be avoided if there was an experienced project manager onboard, and hiring one would make the whole project a lot cheaper in the long run.
You might also like...