Dealing with Problems During Your Extension Build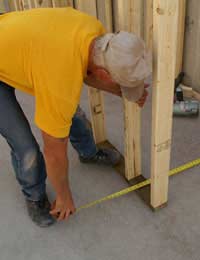 Nobody expects to build an extension without having some problems along the way. But there are ways of managing projects that can help avoid problems, or at least flag them up so that they can be dealt with before they become too big to handle.
If problems do occur then there are two things that need to be dealt with, first, find the solution and put it in place, then secondly, find out whether you are going to have to foot the bill for any costs involved, or pass it on to one of your suppliers or contractors.
Management of the Project
The key to keeping problems at bay is close project management. Although you might not like doing it, you need to get progress reports from your builders and contractors on a regular basis. Try to make it obvious that you are just checking with them, so that they don't feel that you are getting at them, although this can be difficult to achieve.
You need to check that they are on schedule, that they have all the supplies they need, that the next skill that they will need is lined up to come in on time, and that no-one has encountered any problems that are going to slow them down.
Knock-on Effect
If something does crop up, get the relevant people together and ask how it will affect them. Say that, for example, the new radiators haven't turned up on time. Obviously this will hold up the heating engineer, so you need to get a new delivery date, and discuss it with the engineer and your project manager or main contracting builder, if you have either of those.
Then you need to check with the other trades to see what effect it will have on them. For example plastering will be done before the radiators are fixed to the walls so that shouldn't be a problem, but it could be that floor laying any be held up if the plumbing can't be tested and signed off until the radiators are in. Then the people laying the floor may have to be put off for a few more days, and if they can't come in then and the delay stretches on, that may delay someone else, and so on.
This is just a simple example but you can see how problems can have a knock on effect on the build. Particularly if you are managing the project yourself and don't have a great deal of experience, it is essential to get everyone together for a quick meeting, or perhaps on the phone, to find out the extent of the delays and whether or not other jobs can be done in the meantime, to try and grab back some of the project slip.
Compensation
The second part of dealing with the issue is to work out if you can get compensation from someone to cover any increased costs. In the radiator example it is unlikely, as most suppliers will have a standard contract that doesn't commit them to particular delivery times.
If, when ordering goods, you can make it clear that 'time is of the essence' (a key legal phrase) then you should be able to take get compensation for late delivery. It might not be worth the bother, it depends on how big an impact the problem has on the project as to whether or not the time spent trying to get compensation is worthwhile.
Contractors
If a contractor makes a mistake that causes a problem then you should be able to get compensation from them, perhaps in the form of a reduced rate for their work. They ought to have professional indemnity insurance so they can claim it back from that policy. Again, depending on the nature and size of the hiccup, it might be easier to go for an informal approach, perhaps asking for the contractor waive his charges for a day or two.
Remember, it's your money at risk, but it's important to consider the benefit of keeping a good atmosphere on site too.
You might also like...