Working on Timescales When Having an Extension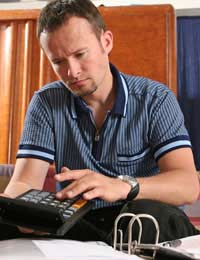 Timescales are critical to a construction project, largely because time is money. If one element of the build takes longer than planned, then there can be a knock-on effect that delays everyone who should follow on behind pushing the project further behind the deadline. And of course, in the world of construction, time is money, and it is you who will be footing the bill.
How much work you have to do on timescales depends on how you're organising the build. If you're project managing it yourself and hiring builders and individual tradesmen to come in and do each job, then the onus is on you to work out what needs to be done, and in what order. If the plasterers, for example, come in to do three days work and the electricians haven't yet put all the light and power sockets in the walls, then they're not going to be able to start.
First and Second Fix
The basic order of work for a traditionally built extension is in three stages: first putting the foundations in, then 'first fix' takes the building from the foundations to having the plastering done when 'second fix' takes over. First fix will include laying in all the pipes and cables for the services as well as all the work to construct the internal and external walls and the roof.
Second fix includes all the work to complete the services after the plaster has dried, such as fitting all the sinks, electrical sockets, light fittings and switches, radiators and so on. It will also include fitting internal doors and integral furnishings that have been planned.
Juggling the Timescales
From that very brief outline it can be seen that the various different trades such as electrician, heating engineer, carpenters, roofers and gas fitters (to name just a few) are likely to have to make two visits, one during the first fix and then again to finish off during the second fix. It's also important to know which jobs have to follow each other, or can be done at the same time.
For example, first fix work for electricians and plumbers can in theory be done at the same time. They both need to lay their pipes or cables through the internal walls, ceilings and floors of the house before they are clad and plastered. But in practice, unless the work can be split into zones that can be allocated to one or the other, they can get in each other's way, unless they are team members who have worked together in the past.
Consider Using a Project Manager
When trades can't get their work done through no fault of their own, they'll be waiting on the job and you will be paying them without getting anything out of it. So if you are a novice and don't have the detailed knowledge about how this all fits together, then it's well worth paying a project manager to make sure it all goes smoothly. The builder might take the role on, or an architect, or for a very large extension, you might consider hiring a professional building project manager.
They will have all the expertise and will take care of checking that all the supplies, materials and labour are where they need to be, when they should be. That in itself should save a lot of money wasted on waiting time and is very likely to pay for itself in the long run.
You might also like...